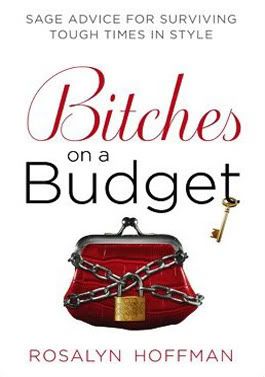 BITCHES ON A BUDGETSage Advise For Surviving Tough Times In Style
By Rosalyn Hoffman
New American Library $15.00
Sure times are tough but that doesn't mean your life has to show it. And in her new book,
BITCHES ON A BUDGET
, Rosalyn Hoffman, former buyer for Lord & Taylor and marketing exec for Avon, will explain why you should restructure everything, from your wardrobe to your home to the way you "get out and get entertained".
Change is hard but the changes Ms. Hoffman suggests are not only simple to make but will enhance your lifestyle rather than detract from it. Beginning with your wardrobe, she suggests pairing things down to a few basic pieces and some great accessories. Hoffman's out-of-the-box thinking leads us to, of all places, Brooks Brothers, where she recommends we lay our hands on a great little single-breasted, navy blue blazer which, she insists, will be the cornerstone of our wardrobe. Other suggestions in this department include where to purchase the perfect little black dress, the perfect pair of jeans and the way to keep your expensive shoes operative for another season or two.
Skin care is an expensive part of any woman's regime and in chapter two, "Grooming" it's laid out in great detail. I love the fact that Hoffman is against using products tested on animals and that she is all about affordable products that work just as well as their expensive counterparts. Her stance on exercise and good nutrition is also right up there with being a beautiful bitch (as she states over and over the word bitch is one we should learn to embrace). She also makes it easy to think about de-cluttering our homes in order to enjoy them more since "a bitch on a budget can't afford to dine out as often as she used to".
Peppered throughout this cleverly written little tome, are bitchin' tips which explain the secrets of being "thrifty", "splurge worthy" and even "green ". Complete with some bitchin' recipes for dinner, cocktails and treats for the dog, Ms. Hoffman has covered all the bases and then some making this book a bitch to put down and a real find I want to share with all my bitch friends.
THE NOTEBOOKS OF MADAME BSeduction, Ecstasy and Desire
By Anonymous
Tarcher/Penguin $12.95 (each)
www.penguin.com
Just in time for Valentines Day come three volumes of erotic stories which comprise
THE NOTEBOOKS OF MADAME B
. The author, who remains anonymous, prefaces each of these little collections, titled
Seduction, Ecstasy and Desire
,
by recounting the story of her red leather notebook, wherein she has inscribed the sexual confessions of a myriad of women. This journal was so "crammed with steamy, sizzling stories that it's almost too hot to touch," she explains. And feeling she had no choice but to share them with us, we have become the lucky recipients of her scribblings.
The first selection from
Seduction, "Jet"
is the story of two strangers who become members of the mile-high club while enjoying the accommodations of first class. During their engagement, they never say a word to each other, which makes this story all the hotter, reminding us that actions speak louder than words. Other selections include
"The Captains Table"
which chronicles the adventures of a couple aboard a swingers cruise. And the title of another tale,
"Ménage A Trois"
speaks for itself.
In the collection of stories entitled
Ecstasy, "A Working Girl"
in need of some ready cash decides to become an escort but finds that she must first attend a very hands-on interview where her oral performance is only part of the plan. And when a secretary's boss tries to get
"Bossy"
with her, she turns the tables on him, making him subservient to her every command.
In the third volume of this indulgent and steamy collection,
Desire, "The Mistresses' Apprentice"
sadomasochism. In this escapade, a young cleaning woman begins working for a woman named Charlotte and finds she has an appetite for more than the type of spit and polish her regular clients require. And
"Always A Bridesmaid"
chronicles the night before a wedding where the bride-to-be and her maid of honor do more than each other's hair and makeup.
Whether you are looking to spice up your sex life with your partner or you are carrying on all by yourself, these three little volumes pack a big punch, making it a safe bet that you won't want to come up for air until you have read all three from cover to cover.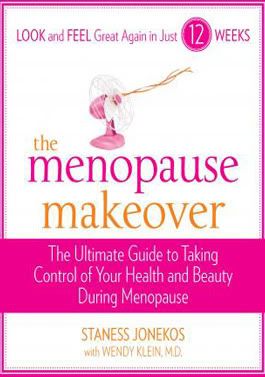 THE MENOPAUSE MAKEOVERThe Ultimate Guide To Taking Control Of Your Health And Beauty During Menopause
By Staness Jonkos with Wendy Klein, M.D.
Harlequin $16.95
www.eHarlequin.com
While in the midst of planning her wedding, Staness Jonkos, producer for Oxygen Media, the television network co-founded by Oprah Winfrey, encountered a rather large bump in the road: she found she had entered menopause. Much to her chagrin she realized that she was experiencing every symptom one could name such as hot flashes, mood swings and weight gain. While trying to regain control over her well-being, and finding no comprehensive guides out there, she decided to take things in to her own hands. Inspired by a book she was using to plan her wedding she came up with a template for success and her new book
THE MENOPAUSE MAKEOVER
.
Written in three sections, Part One, "Your Menopause Survival Guide", covers the basics, explaining menopause in all its glory and provides eight steps to physical, emotional and spiritual wellbeing. Everything from exercise to beauty regimens are covered here, as are answers on how to find your long-lost libido, should it have gone astray. In addition, this section provides tips on increasing your spiritual awareness and ways to regain emotional balance.
Part Two, "Planning Your Transformation", is loaded with tools to help you commit to a new diet and exercise routine. Here, Ms. Jonkos provides you with a twelve week plan that will help you to begin regaining your health and wellbeing. Complete with a "Menopause Makeover Food Pyramid", graphs and an in-depth questionnaire this section provides a template for real, chartable success.
Part Three, "Your Menopause Makeover Planner", actually takes you week by week in a workbook format which provides templates for meal planning and shopping lists as well as a space for journaling. Hormone replacement therapy is also discussed in this chapter as well as some great recipes for "Makeover Dinners" which are sure to please.
With the help of Dr. Wendy Klein, cofounder of the Institute for Women's Health at The Virginia Commonwealth University School of Medicine, Ms. Jonkos' book provides a great resource for any woman who wants to improve the quality of her life amidst the many changes that menopause can bring.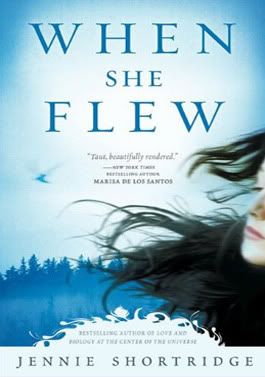 WHEN SHE FLEW
By Jennie Shortridge
New American Library $15.00
www.jennieshortridge.com
I love to read a novel that carries me away and takes me to a place I can escape the boundaries that make up my everyday life. This was the case with
WHEN SHE FLEW
by Jennie Shortridge and I highly recommend this wonderful book.
Oregon Police officer Jessica Villareal is at a crossroads in her life. Although she's great at her job she's not so great at being a parent and she wonders how she could have done things differently. Estranged from her daughter and grandson, Jessica feels a sense of loneliness that she's always been able to keep at bay with work and her rock-solid belief system but suddenly, none of that seems like it's enough to sustain a life and fulfill her emotionally which is something, she realizes, she has all but ignored.
Meanwhile, on the outskirts of town an Iraq vet, Raymond Wiggs and his young daughter, Lindy, are also at a crossroads. For years, they have been living off the grid in a neatly organized campsite, surviving by their wits and the fact that they esteem one another above all else. Lindy is fascinated by birds of all kinds and, one day, while following a great blue heron, Lindy is spotted by a group of bird watchers who try to pursue her to no avail. Of course, they report this to the local police who have no choice but to go after the girl and her father and from there, the characters meet at the crossroads all of them had been heading towards.
Once found, it becomes apparent to Jessica that the system will try to force Ray and Lindy to be separated. She knows in her heart that doing so would be the worst case scenario for the pair and thus she struggles with just how deeply she should get involved. Although she has sworn to uphold the law and the code of ethics she inherited from her own father, who was also a police officer, in the end she must decide if it's more important to stand up for what she believes in than it is to live life by the book, even if it means breaking all the rules.
Fleshed out with a cast of colorful characters, this beautifully written and enigmatic tale of love and culpability will grip you by the heart and won't let go until the final page.