Tim Burton's Alice in Wonderland film, opening March 10 is going to be huge! Disney is supporting the film by launching movie-inspired merchandise including toys, jewelry, fashion and more.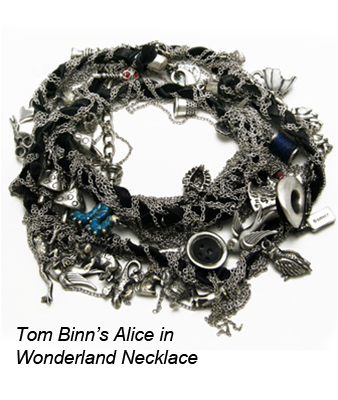 Disney cleverly unveiled their upcoming Alice-inspired jewelry collection by springing a "flash mob" Mad Hatter Tea Party at the fashion trade show MAGIC in Las Vegas earlier this year. The video of the event is featured on Youtube, and definitely caught the fashion-conscious crowd by surprise.
One of the jewelry collections is designed by
Tom Binns
, a former Fashion Designers of America winner. It features two separate groups: the higher price level
Tom Binns for Walt Disney Signatur
e is a limited edition set of 6 pieces that can range from $1000 all the way up to $3,000. Surprisingly, given its name,
Tom Binns for Disney Couture
is a more affordable group of 35 different pieces that cost between $50 and $250, and can be purchased online at boutiquetoyou.com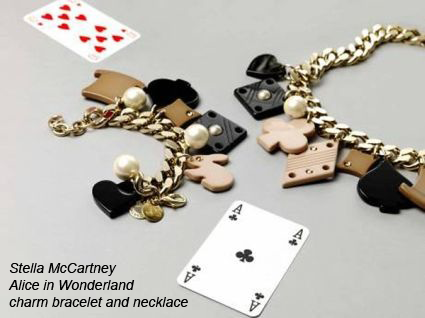 Stella McCartney
is also joining the Disney design team, featuring a bracelet and necklace set that comes with charms like a rabbit, spade, club, heart, diamond and a Mad Hatter's hat. The charms are adorned with Swarovski crystals, and are currently available at Stella McCartney stores worldwide. (Bracelet $395, Necklace $425)
More Disney inspired whimsy can be found in the latest collection at
Hot Topic
, but this isn't your run-of-the-mill kid's gear. This collection features everything you could possibly want to create your own Mad Hatter tea party. Including items such as pill box hats, necklaces, rings, mad hatter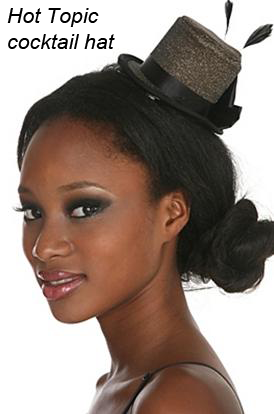 cocktail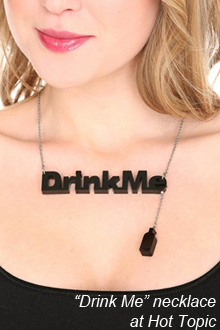 hats, hair bows, lip gloss and more, this Alice gear takes on a decidedly edgier tone. Aimed for those that have grown out of their Disney Princess phase and are looking for something more sophisticated, the collection features Red Queen fingerless motorcycle gloves with cut-out heart shapes and a necklace that pays homage to Alice's curiosity, simply stating "Drink Me." ($15)
Torrid
, the women's plus size online boutique has some great fashion accessories as well. Their Mad Hatter ring brings new meaning to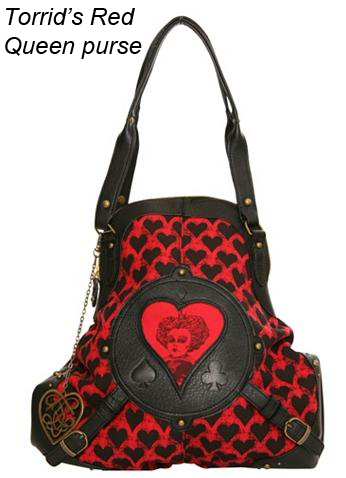 the term cocktail ring (cocktails instead of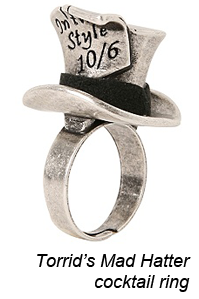 tea, anyone?) ($16), and their Red Queen handbag is a must-have accessory for every woman that has ever wanted to shout, "Off with their Heads!" ($39.99)
Other designers are 'hopping' on the Alice inspired fantasy in their own ways, too. Sue Wong created an Alice-themed dress collection for her Spring 2010 line, currently available at Bloomingdale's. Featuring pretty, frilly lace cocktail dresses and gowns, they bring Alice's mischief to modern day, with laces and contemporary silhouettes accenting the pastel silk and chiffon.

Nail polish company OPI is even getting in on the action, creating a custom palette of colors perfect for an afternoon tea party. As always, OPI takes a creative approach to name their colors, featuring Absolutely Alice, Mad as a Hatter, Off With Her Red! and Thanks So Muchness! in shades of red, blue and a multi-colored glitter.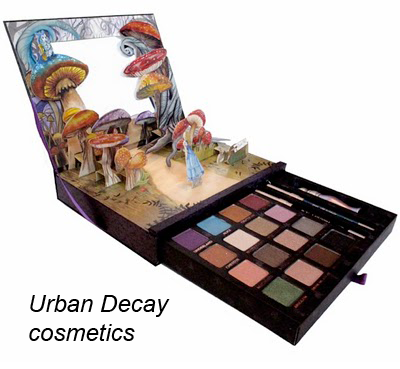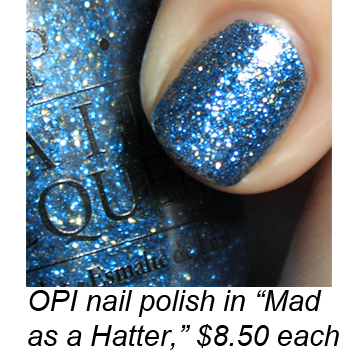 Makeup company
Urban Decay
have also found a muse in Alice, prominently displaying her whimsical image on everything from lipstick tubes to compact cases. The highlight of the collection is a 3D makeup kit that details Alice walking through the forest, searching for the white rabbit that got her into all the trouble in the first place. ($52)
Mad Hatter fever has even spread to Europe. The luxury department store,
Selfridge's of London
is featuring an "Alice in Wonderland" themed pop-up store in honor of the film's premiere. Inside the store will be a variety of Alice- inspired clothing collections, the Disney jewelry collections by Tom Binns and Stella McCartney, and even vintage tea sets so you can stage your own tea party.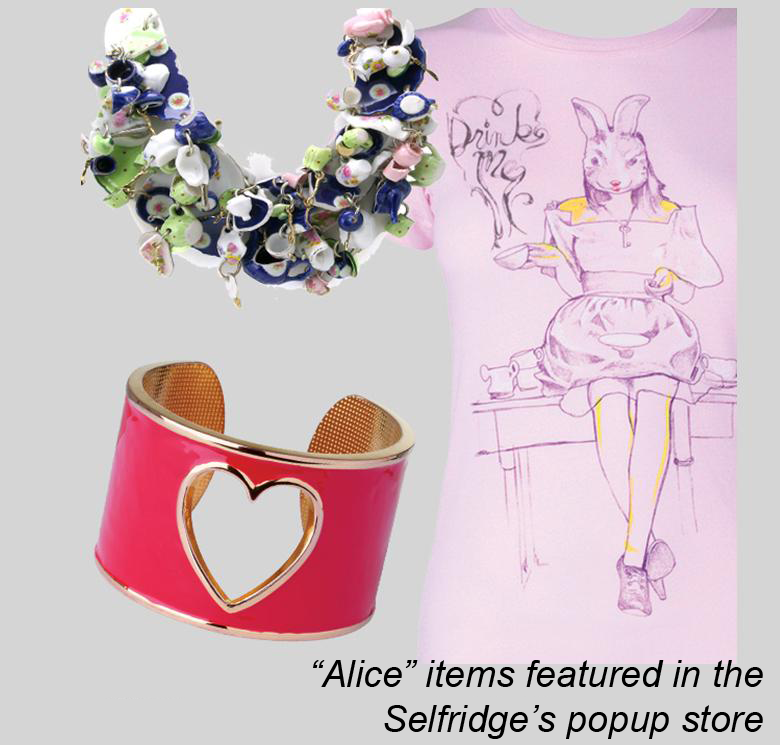 Parisian store
Printemps
has also gotten in on the action by requesting fashion luminaries such as
Christopher Kane
,
Martin Margiela
and
Ann Demeulemeester
, and the late, great
Alexander McQueen
to design one-of-a-kind dresses for the Alice-inspired window installations that will be unveiled during Paris fashion week.
If Alice knew fashion like this was waiting for her, no wonder she climbed through the looking glass!