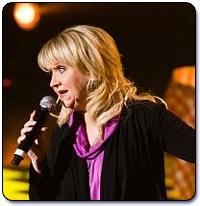 You may not have heard of her yet, but the not-very-well-kept secret that is comedienne Chonda Pierce has criss-crossed the country for a decade leaving millions of laughing fans in her wake. Apart from her quick wit on stage, Pierce is an author (
I can see myself in his Eyeballs
and
Roadkill on the Highway to Heaven
), an artist with 12 CD and DVD releases to her credit (
This ain't Prettyville
on No Whining Records and her latest
Did I Say That Out Loud?
), a TV Hostess, the 2009 Visionary Award's Comedian of the Year, and founder of Branches Recovery Center, which helps those suffering from depression and other recovery issues.
Now all these achievements may seem like a mouthful, but they're nothing in comparison
to Chonda's grand plan to take over the world. Ok, she was kidding, but she is branching out from her Christian roots to entertain a broader audience, obviously desperately in need of more humor in their lives.
Recently, Dish hooked up with the rambunctious Ms. Pierce for a 10-question interview that veered dangerously close to a comedy routine, leaving both interviewer and interviewee in stitches.
Check it out……..

1) If you were Miss America, what would be your cause?
Chonda: (laughing) Spanx for all women in the South. It might be four or five pair for each woman. I mean, one for each thigh. Everyone deserves to suck it in at least once. Until they find some way to make Krispy Kreme doughnuts non-fattening, that's my cause.
2) What do you think is the world's worst disaster, and what would you do about it?
Chonda: I don't know if you consider this a disaster, but the Holocaust. You can't find that much funny about the Holocaust other than if I had been Hitler's mother. I would have beaten him while I had the chance. I mean if I just could have gotten a hold of him younger, you know what I mean? And send him to the priesthood or something. They should have committed him when he was 12, that would've saved some lives. What's scary is how many people began to listen to him. I mean, that's really frightening. How do you get a following like that? But yeah, I probably would've gotten a hold of him as a mom and just wore him out.
3) If you could wave a magic wand and create the perfect man, what would he be like?
Chonda: Dead. (laughs) Let me clear up the fantasy. There isn't any. He'd be dead, with a huge will.

4) If you could have only one thing in this world, what would it be?
Chonda: Lipstick. Or Chocolate. There are always the easy 'women' answers. Me, I'd probably say fishing pole, then you could always eat fish. That is just me, lipstick and a fishing pole. If I had those two things I would be so happy; that's the two sides of me. I probably have to say if I had to pick, I would pick the fishing pole. I'm much more of an outside girl.

5) What woman, living or dead, has inspired you the most?
Chonda: Probably Minnie Pearl. One, she was brilliant. People laugh when they hear these little country bumpkin stories from Grinder's Switch. I hope I've carried on some of that tradition of telling stories. I'm more of a storyteller than a boom boom boom stand-up person. And there's always meaning behind the madness in every one of her stories. Miss Minnie -- for a Southern girl -- I've been in the South my whole life -- it was my first introduction to a woman being in comedy. I loved Carol Burnett on television. And I love Miss Minnie. And I loved Roseanne Barr when she first came out as that normal trailer park mom. I loved it because that was everybody in my church.
6) What was your most embarrassing moment?

Chonda: I remember walking out on stage one time with toilet paper hanging out of my pants and it's not so much this thing in my pants but that it was really stuck between the cheeks you know? That's the good thing about being in comedy, people thought I was just trying to be funny, but I could've died of embarrassment.

7) What is your favorite dish?

Chonda: I like to eat... I love my mother's spaghetti; it's made with bacon. A big thick piece of bacon, and you chop it up into little fine pieces. It's a family recipe that she's had forever and she had it because her daddy grew hogs. They didn't have beef much so it was made out of being poor. But it's still my favorite dish. That and I love shrimp and grits. Boiled peanuts, those are good.

8) What is your favorite sport to play, and what is your favorite sport to watch?

Chonda: I love to play golf. I'm not any good at it but I do enjoy it. It's one of those things where you can play a couple holes and walk, it doesn't matter. I go look for balls. I go pick flowers. And the next hole I'll jump back in, so I like that. I like it that you compete with yourself and it's not really competitive, while I'm sure it is for Tiger Woods but not for me. I love watching tennis because I sleep so good when it's on. Except for that one player that yells when he hits it. Does he not know the world is trying to sleep?

9) if you had a TV show, what would it be?

Chonda: Successful! I think I would love that it would say something and not just take up air. I want it to be very funny. I'd like to break some of the barriers of what people think of Southerners. Even though some of the things they think of Southerners is right on. We are brilliant teachers and professors but we are also country bumpkins and rednecks. I like a mixture like that. It would be very much me, it would be based on who I am and how I get myself into trouble. I would like to be the next Betty White and I would like to have the longevity of Betty White. She's beautiful, she's a beautiful person and hilarious and still has a great sense of timing.

10) What was the most exciting moment of your life?

Chonda: Well, I have to say getting married because my husband is probably going to read this. Then I would have to say giving birth to my children, because they read now. Probably the first time I was ever on the grand old Opry. But hardly anyone in the world will know why that is. It's just, you have to do it. It was a really big deal for me. It was the first time I was ever on live television. I remember Marty Stuart came running down the hall and he autographed a dollar bill from his wallet. He said 'I'm going to give you a dollar for your first million because you are going to be a damn star.' I was high as a kite. Of course it was fifteen years ago, and I'm still going. But, it gave me permission which given my conservative roots, you'd have no idea how far I have come. My dad was the black tie preacher dude, you know, nut. So to stand on the stage of the Grand Ole Opry, for me, especially being a Nashville girl, that was a huge deal for me. Oh just a joy.