With so many of our favorite series ending for the season or even worse, ending forever, it might seem like our TV viewing future will be bleak. But wait! Hope has arrived in the form of some of the summer's hottest new series, ever. So check out our list of the best and most entertaining shows premiering in the next few summer months; we're excited about them, and we hope that you will be too!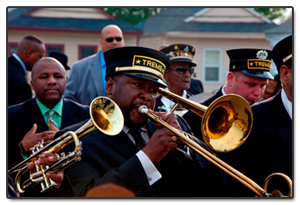 TREME Premiered in April, new episodes are on Sunday nights at 10/9c on HBO
Three months after Katrina ravaged the southern coast of the U.S., "Treme" follows the lives of average New Orleans natives who live in the famous Faubourg Treme neighborhood of NOLA. From writer/producers David Simon (Generation Kill) and Eric Overmyer (The Wire), the one-hour drama shows an in-depth look into the lives of musicians, chefs and local figures tying to rebuild their lives in the Big Easy.
You can catch up with Treme with recaps on Sunday nights at 9 p.m., or watch the entire season on HBO on Demand.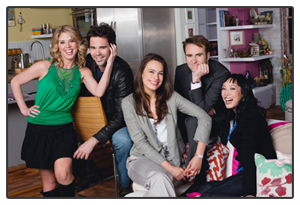 100 QUESTIONS Premieres Thursday May 27, 8:30/7:30c on NBC
Charlotte Payne looks for love via an online dating website, where she is given 100 questions to answer about herself. Each question prompts her to recount a humorous part of her past, with hilarious results.
ARE WE THERE YET? Premieres Wednesday, June 2 at 9/8c on TBS
Based on the movie of the same name, the comedy series follows the newly blended family of the Kingston-Persons starting just where the movie left off. The newly married couple played by Terry Crews (
Everybody Hates Chris
) and Essence Atkins (
Half and Half
).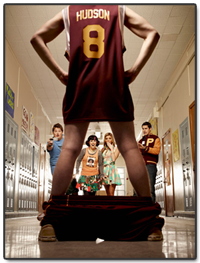 THE HARD TIMES OF RJ BERGER Premieres Sunday, June 6 at 11/10c on MTV
HARD TIMES portrays the hardships of high school for one 15-year old boy, RJ BERGER (Paul Iacono) and his sex-obsessed friend, MILES JENNER (Jareb Dauplaise). It is a finding-of-self tale that navigates all the cliques and awkwardness surrounding adolescence. RJ, the loveable nerd, is at the bottom of the popularity barrel when the entire schools discovers that, well, he is well-endowed. From this point on, everything changes. But is it a gift or a curse?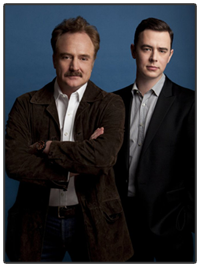 GOOD GUYS Premieres Monday, June 7 at 9/8c on FOX
From producer Matt Nix (
Burn Notice
), comes the new action comedy GOOD GUYS, a series that pairs an old-school cop with a modern-day detective and examines crimes from new angles, revealing the sides of criminals that are hardly seen—the good. Starring Bradley Whitford (
The West Wing
), who plays antiquated officer DAN STARK, and Colin Hanks (
Mad Men
,
Roswell
), who plays new-age detective JACK BAILEY, GOOD GUYS looks to be an entertaining, non-linear approach to the classic cop show. It airs Monday, June 7, at 9/8c on Fox.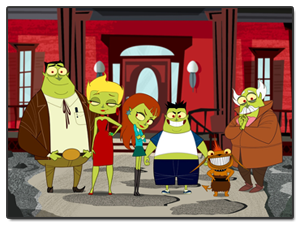 NEIGHBORS FROM HELL Premieres Monday, June 7 at 10/9c on TBS
The new animated series highlights the Hellman family, a typical all-American family that just moved in from Hell. The series is from the producers behind Family Guy and South Park.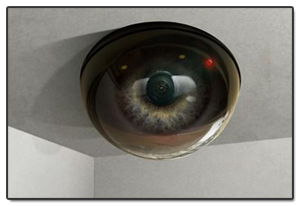 PERSONS UNKNOWN Premieres Monday, June 7, 10/9c on NBC
This drama mystery stars a group of strangers who awake in a hotel to find they've been kidnapped by an unseen captor for an unknown purpose. They must work together to figure out why they are there, and how to escape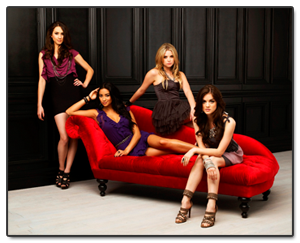 PRETTY LITTLE LIARS Premieres Tuesday, June 8 at 8/7c on ABC FAMILY
This storyline is shockingly familiar, although it is not set in the prestigious Upper East Side. Four former best friends are reunited after the "queen bee" of the group has gone missing. Suddenly, the girls begin receiving message from an unknown source that seems to know all of their secrets. The girl with all of the gossip signs all of her messages with a single letter, "A."
Starring Lucy Hale from The CW's
Privileged
and Ashley Benson from the shortlived
Eastwick
, this show should be a great family oriented program for the tweens who are not allowed to watch "Gossip Girl." Incidently, GG producer Bob Levy is executive-producing
Pretty Little Liars
with Oliver Goldstick of
Lipstick Jungle
and
Desperate Housewives
.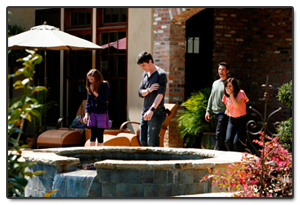 THE GATES Premieres Sunday, June 20 at 9/8c on ABC
As the coveted spot for Desperate Housewives and Brothers & Sisters opens up for the summer season, ABC has decided to fill it with two guilty-pleasure dramas starting with The Gates. Fans of Twilight and Buffy the Vampire Slayer will love to sink their teeth into this delicious series starring Prison Break alum, Frank Grillo, Luke Mably of The Prince and Me and 24's Marisol Nichols.

Grillo and Nichols play Nick and Sarah Monahan, who are moving to a picture-perfect suburbia after a change of jobs has them relocating to The Gates, a pristinely manicured neighborhood with a dark and supernatural secret.

As their children try to fit in to the new private school and the ageless beauty enrolled in it, Nick tries to unravel the mystery that haunts his every waking thought.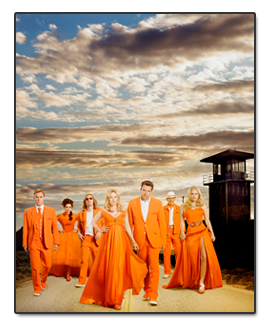 SCOUNDRELS Premieres Sunday, June 20 at 10/9c on ABC
Following
The Gates
is a dramedy starring Academy Award and Golden Globe nominee Virginia Madsen (
Sideways
,
The Astronaut Farmer
) as the mother of a family of criminals. Taking the same villain-as-hero approach that The CW's
Runaway
and FX's
The Riches
,
Scoundrels
follows the tale of your typical American family of fugitives.
Opposite Madsen is JAG star, David James Elliot, who plays Wolf, the father to the West family. After Wolf is arrested and sent to prison, Cheryl (Madsen) must take charge of the family and try to put them on the straight and narrow.
"Scoundrels" is based on a New Zealand series,
Outrageous Fortune
brought to America by executive produces Lyn Greene and Richard Levine of FX's
Nip/Tuck
.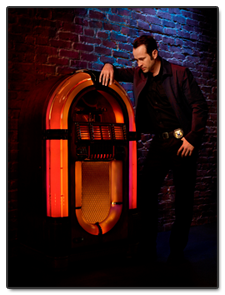 MEMPHIS BEAT Premieres Tuesday, June 22 at 10/9c on TNT
The show follows Memphis police detective, DWIGHT HENDRICKS (Jason lee), who has a quirky, yet intimate relationship with the city. He is also passionate about blues music and his mother. Considered "the keeper of Memphis," Hendricks is a Southern gentleman who protects his fellow citizens while remaining reverential to the city's rich history and soulful music. MEMPHIS BEAT also co-stars DJ Qualls as Davey Sutton, a cop who considers himself to be Dwight's protégé, Celia Weston (
Junebug
) as Dwight's mother, and Sam Hennings (
Saving Grace
) as Charlie White, Dwight's seasoned, hypertensive partner.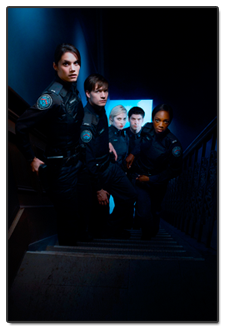 ROOKIE BLUE Premieres Thursday, June 24 at 9/8c on ABC
Filling the slot left by the
Grey's Anatomy
hiatus is a new take on the standard cop drama.
Rookie Blue
follows five young graduates of the police academy, who are fresh on the beat. Starring Missy Peregrym (The CW's
Reaper
) and Gregory Smith (The WB's
Everwood
),
Rookie Blue
follows the lives of the new cops, and all of the pitfalls that can happen in a life-or-death job.
Similar to Grey's,
Rookie Blue
is set to spend its focus on the lives of the rookie cops, centered around Peregrym's character Andy. Dealing with daddy-issues, Andy is trying to fill her life with her dad's passion – police work. Although her new job doesn't quite fill the void in her heart, she is able to build a family amongst the rookies.
HUGE Premieres Monday, June 28 at 9/8c on ABC FAMILY
Developed by Winnie Holzman of My So Called Life fame, Huge follows seven teens and the counselors of a weight-loss camp. Based on the book by Sasha Paley, the series shows the oversized kids looking beneath the skin to find their true selves. Huge stars Nikki Blonsky who jump-started her career playing Tracy Turnblad in the motion picture musical, Hairspray.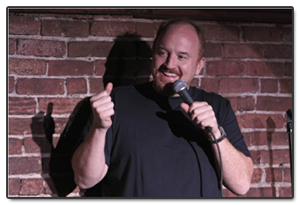 LOUIE Premieres Tuesday, June 29 at 11/10c on FX
Starring stand-up comedian Louis CK ("Lucky Louie"), the series follows Louie, a successful stand-up comedian who has just become a single dad, trying to raise his two daughters in New York.
.

RIZZOLI & ISLES Premieres Monday, July 12 at 10/9c on TNT
Detective JANE RIZZOLI (Angie Harmon, Law and Order) joins forces with medical examiner, MAURA ISLES (Sasha Alexander, Mission: Impossible III) to solve the crimes of twisted criminals in the streets of Boston, which requires an understanding of the science of murder.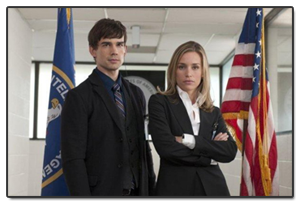 COVERT AFFAIRS Premieres Tuesday, July 13 at 10/9c on USA
If you prefer the CIA, then catch
Covert Affairs
, which follows the beautiful young trainee Annie Walker as she is mysteriously sent out into the field a month before her training is up.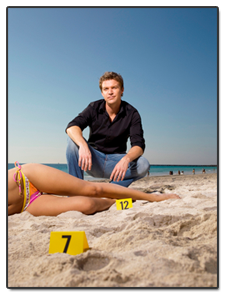 THE GLADES Premieres in July TBD on A&E
A&E's new homicide detective drama is sure to keep you on the edge of your seat. Set in a small town deep in the Florida Everglades,
The Glades
follows a homicide detective from Chicago who, after being accused of sleeping with his boss' wife, tries to find a change of pace in sunny Florida. However, life in the small golfing community is not so perfect as people keep turning up dead. Starring Australian actor Matt Passmore (
McLeod's Daughters
), Keile Sanchez (
Lost
), and Carlos Gomez (
Sleeper Cell
).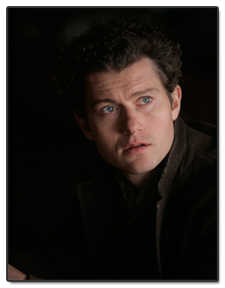 RUBICON Premieres Sunday, August 1 at 8/7c on AMC
Following its critically acclaimed series, Mad Men, AMC is focusing its efforts on its third original series, Rubicon. Starring Miranda Richardson (The Crying Game), Lili Taylor (Six Feet Under), and James Badge Dale (The Departed), Rubicon is a heart-stopping conspiracy thriller about an NYC think-tank analyst who discovers clues pointing to a global conspiracy. Engaging the audience with twists and turns; the series unravels a secret society that has control over global politics.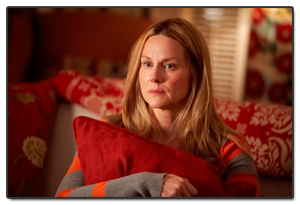 THE BIG C Premieres Monday, August 16 at 10:30/9:30c on SHOWTIME
Starring Laura Linney (Kinsey, Love Actually) and Gabourney Sidibe (Precious: Based on the Novel Push by Sapphire), the show delves into the Connecticut suburbs and looks at a cancer survivor who is reclaiming her life. Linney plays cancer survivor and suburban wife Cathy. Sidibe plays a pushy child in Cathy's Class. Oliver Platt (2012) plays Cathy's husband.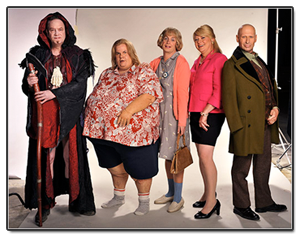 THE KIDS IN THE HALL: DEATH COMES TO TOWN Premieres Friday, Aug. 20 on IFC
Your favorite cross-dressing Canadian comedy force returns to television with an eight-part gothic murder-mystery comedy. Mark McKinney, Bruce McCulloch, Kevin McDonald, Dave Foley and Scott Thompson, as usual, attempt to play all of the characters by themselves as Death (McKinney) gets off a Greyhound bus in a small Canadian town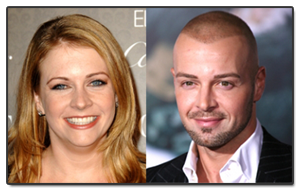 MELISSA AND JOEY Premieres in August 2010 TBD on ABC FAMILY
Executive producers and stars Melissa Joan Hart (Clarrissa Explains It All, Sabrina the Teenage Witch) and Joey Lawrence (Blossom, Gimmie a Break!) bring a sitcom about a local politician Mel (Hart), who must look after her niece and nephew following a family scandal. Mel hires the unlikely nanny Joe (Lawrence) to look after the kids.