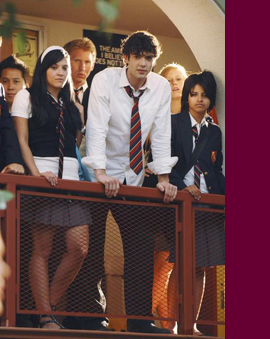 The 1999 film 10 Things I Hate About You – loosely based on Shakespeare's The Taming of the Shrew – was a surprise hit and helped launch the careers of Julia Stiles and Heath Ledger. Fast forward 10 years and ABC Family is hoping you'll come back to Padua High for their new series with the same name. The show launched last summer as the network's #1 comedy ever, and it just got picked up for a new full season. Called "smart, funny, with so much heart about it", the future looks bright for the show.
It stars an all-new cast (except for the dad, still played by Larry Miller). Lindsey Shaw takes over the role of strong-willed, independent Kat, while Kat's popular sister Bianca, is played by Meaghan Martin.
However, it's Heath Ledger's old role as handsome leather-clad bike-riding bad-boy Patrick Verona that is drawing the most attention. Filling his shoes is Ethan Peck,
Ethan Gregory Peck
. That's right, Ethan Peck is the grandson of legendary actor Gregory Peck. For those of us who don't usually watch movies any older than Footloose, you might recognize the elder Peck as lawyer Atticus Finch from the 1962 classic (and favorite of English teachers everywhere) To Kill a Mockingbird.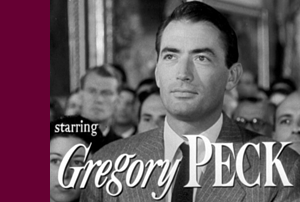 Between Heath Ledger's shoes and Grandpa's shadow, the 23-year-old Peck has his work cut out for him. Dish got the chance to talk with the heir-apparent about what it's like to grow up with such a showbiz legacy.
"Following Ledger, it's something that I'm doing my best to not be attached to," Peck explained. "You know, filling any type of shoes or following any path. You know, as Carter [Covington, the show's Producer] has said we've really created something different, I think."
Still, he added, "I was a fan when I was 13, so it's so strange for it to come back around and revisit a piece of my past in some ways."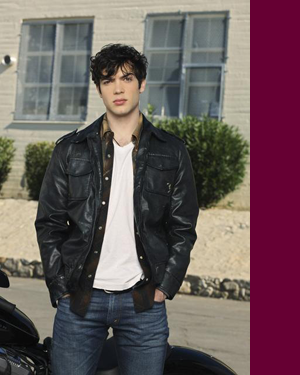 When asked about the elder Peck's influence on his career, he surprised us. "You know, I haven't quite approached his films as a place of inspiration for me yet because I still see him as my grandfather. So I don't feel that I would have the respect for him as an actor that I am acquiring and will have." Even so, he admits, "but every once in awhile I will walk into a gift shop or I'll go on YouTube and I will watch him. I just recently watched his acceptance speech for his Academy Award, which I have never seen. It gives me the chills."
Surprisingly, growing up the young Peck didn't even know his grandfather, who died when he was 17, was famous! "I only saw him within the context of family gatherings at his home, or he would pick me up and take me to lunch or something." But when he got a little older, "Even in high school people would be like, 'Oh, Gregory Peck, oh my gosh!' and I would be like, 'oh… okay yeah, cool.' Not out of any disrespect, it's just that like, he is my grandpa. He was like this wonderful man to me. I never did come to the realization how much he could help me maybe; I don't know."
He added, "He was really sweet and available and generous and gracious and respectable, I mean, everything you see him to be in the characters he portrayed. He taught me how to float in the pool, for instance. I mean, those are the things I remember….."
"I have seen some of his films, but not nearly enough. I'm sort of working towards accepting him, accepting me and how we're similar and how we're different. So it's a developing relationship still."

One might think the elder Peck might try to push his young grandson into his line of work? "No, no," Peck responded, "his focus was always on me, which is really wonderful. So that's how I remember him. I remember him 'playing to me', if you will."
Although he tried other paths, Peck came around to acting on his own. "It's pretty much always been acting. I never did theater in high school, I pretty much did sports and was, you know, into academia somewhat. I played the cello in the symphony and I really liked the idea of being a journalist in college and studying journalism. Still, there's something that's pulling me to this place."
In conclusion, Dish asked Peck if motorcycles and wearing black and so forth all the time is really his thing. "I don't ride bikes," he said. "And I won't." Apparently, he promised
Producer Covington that he won't get a bike until the show is cancelled.
"He owns my face," he explained. "So I've got to protect the goods."