Every week Dish has a staff meeting to discuss what fabulous stories we're going to be working on for the upcoming issue. At one of them one of our resident geniuses thought up the greatest idea- 5 ingredient recipes to remove the labor-intensive process of shopping for and making a great, healthy and delicious meal. And as it turned out, each one of us already had such recipes! And now we're happy to share them with you. So don't take our word for it, print them out and try them yourself!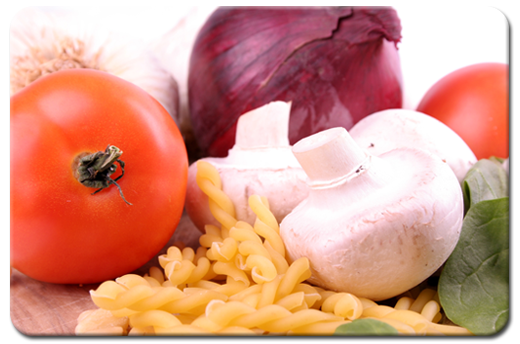 (Note: recipes do not include salt, pepper or your favorite spices)

Raeanne's Quick Mexican Tacos
2 Taco Shells (any brand)
1 Can Black Beans or any favorite beans
½ Onion
Celery
Cheese (Cheddar & Parmesan)

In a not-too-large frying pan, sauté onion until soft. Add celery, washed beans (optional: and some beer for flavor). Add you favorite herbs and spices, such as salt, black pepper, hot pepper flakes, cilantro or basil (optional) to the mixture. When beans are hot but before they become mushy, remove from heat and put filling in taco shells, add cheddar cheese to your liking on top and microwave until cheddar melts. Sprinkle Parmesan on top and you're done! These are tasty with a simple green salad or just lettuce & tomato on top.

Cory's Crispy Quesadillas
Quesadillas 6-8 flour or corn tortillas
2-3 cups shredded cheese, any flavor, OR 8 ounces thinly sliced deli cheese
2 tablespoons butter, softened

Make quesadillas by placing cheese between two tortillas, or placing cheese on
half of each tortilla and folding over to cover. Spread outsides of tortillas with softened butter. Heat pan over medium heat, then add quesadillas. Cook, pressing down with spatula, 2-3 minutes on first side until golden. Carefully flip and cook on second side. Cut into wedges to serve. Serves 4-6

Dustin's Cool Gorgonzola Pear Salad
(Recipe serves one – packaged ingredients serve at least six)
Handful baby spinach
3 tsp Gorgonzola cheese
3 oz blue cheese dressing
1 pear, sliced thinly
5 oz shredded bacon

Most baby spinach can be purchased pre-washed, but in the event that it needs to be washed, wash it and spin-dry. Brown the bacon in a skillet and drain grease. Crumble the bacon into bite-sized bits. Make a bed of the spinach on the plate, top with bacon and pear slices. Sprinkle Gorgonzola crumbles over the salad and drizzle with the dressing.

Caitlin's Bacon Stuffed Tomatoes
1 pkg cherry tomatoes
½ cup of mayonnaise
1 pkg bacon cooked, drained and crumbled
¼ cup finely chopped scallions
½ cup of Parmesan cheese

Carefully cut the tops off the cherry tomatoes and remove the seeds and pulp of the tomatoes using a small melon-baller or paring knife. Let the tomato shells dry upside down. Combine mayonnaise, Parmesan, onions and bacon in a mixing bowl. Use the mixture to stuff the tomato shells. Serve chilled.

Raeanne's Exotic Indian Rice Concoction
3/4 Cup Uncooked Brown Rice
(I prefer Mahatma brand, but any will do)
About 11/2 cups Milk
Hot Curry Powder
2 eggs
1 Can water-packed Tunafish

Put 11/2 cups water in a smallish pot, and bring to a boil. Lower heat, and add brown rice. Cover pot but not completely so steam can escape. Remove from heat when all water has been absorbed, but before the bottom scorches. In another small pot, boil eggs. In a small pan, add milk and curry powder to taste and cook slowly until it thickens (just before boiling). Pour out the water in the can, and add tuna fish to mixture. When ready, assemble ingredients including herbs or spices to taste such as salt, pepper, cilantro etc. in a glass or oven-safe ceramic bowl. Bake at 400° until top browns and voila! It is ready.
I like to eat this with yogurt and mango chutney on the side, but it's delicious on its own.

Dustin's Hearty Guinness Stew
8 cups beef stock (additional may be needed)
3 lbs chopped chuck beef, trimmed
5 cans vegetable medley
3 large onions
1 btl Guinness

Place the chopped beef into a large stew pot. Fill with stock. Bring to a boil and reduce heat to medium. Let simmer for 30 minutes. Add bottle of Guinness. Let simmer for 30 minutes more. Add vegetable medley and onions; continue to simmer for 3 hours. Watch so that the level of the broth remains high. The lid should stay on as much as possible to reduce evaporation. Add stock or water if levels become too low. By using a Crock Pot or a slow cooker, this meal can be made in the background of your busy life.


Chris' Chillin' Chicken Pesto Penne
2-3 chicken breasts
1 jar of Classico Pesto
1 box of whole wheat Penne

Cook pasta for time stated on box. Add a bit of salt and olive oil to the water while it is boiling. While this is cooking, grill chicken on a George Foreman Grill for 8-10 minutes. Once pasta is finished, strain it and add the chicken, which can be cut into pieces of your own desired size. Pour pesto on top, adding as much or as little as you like.

Caitlin's Oreo Truffles
1 pkg Oreo cookies
1 pkg softened cream cheese
1 pkg Chocolate almond bark coating
1/8 pk Vanilla almond bark coating

Using a food processor, crumble the Oreo cookies into a powder. Add the cream cheese. Form the mixture into small balls. Lay the balls on a cookie sheet lined with wax paper and refrigerate for half an hour. Using separate double boilers, melt the chocolate and keep molten. Dip the cookie balls into the dark chocolate and let harden on the wax paper. Fill a piping bag (or a zip-lock bag with a corner cut out) and drizzle the white chocolate to decorate. Serve chilled.

Dustin's Southwestern Chicken Wrap
5 oz Tyson Southwestern Grilled Chicken Strips
1 10-inch soft flour tortilla shell
3 oz shredded sharp cheddar
2 oz pico de gallo
1 tsp Kraft chipotle mayonnaise

Spread mayonnaise from the center of the shell out. Sprinkle cheddar cheese, pico de gallo and chicken in the center of the shell. Roll up the shell, using a dab of mayo to seal the roll. Cut in half and serve.

Cory's Hershey Pie
1 semi-sweet dark chocolate bar (Hershey's oversized)
1 chocolate pie crust
1 12 oz Cool Whip
1 8 oz Cool Whip

Melt the chocolate bar. Once completely melted, stir in the 12 oz of Cool Whip.
Pour into pie crust. Place in freezer until solid. Before serving, spread the 8
oz of cool whip evenly over the top. Garnish with more chocolate if you like.
Serve.