Las Vegas has been the setting of crime shows like CSI, and dramas like
Las Vegas
, but CBS' new show takes us into the courtrooms of sin city.
The Defenders
stars James Belushi and Jerry O'Connell as criminal defense attorneys. O'Connell has actually had a history in law, as a student.
"I did one year," O'Connell shared. "I did one year of night school. So it was not full-time, thank goodness. It was night school, here in Los Angeles. It was a school called Southwestern. I have to admit, it's been invaluable, having gone to law school and then getting onto this project. It really has been helpful."
Of course, Jerry O'Connell is not a practicing lawyer, so playing one on TV will have to do. "I had to defer," he continued. "I mean, I don't want to say 'drop out,' but there's no way I can do both. I could barely do law school on its own. It was a lot of work. It was more reading than I think anyone should ever have to do. It was really difficult, but it was a great experience. It would be unfair to my education, to everyone here, and mostly to my children, but what a great experience. I met friends that I'll have for the rest of my life."
The show is based on two real life Vegas lawyers. Filmmakers Harry and Joe Gantz started out making a documentary about them, and that turned into a dramatic series, with all the crazy crimes that happen in Vegas.
"There was one case where a guy goes into a liquor store, holds up the liquor store, 'Give me all your money,'" Belushi said. "The guy gives him all the money, and the guy says, 'Now, give me that handle of vodka, that Johnnie Walker scotch and that Jack Daniels.' And the guy said, 'Oh, sir, I'm sorry. I can't give you the alcohol. It's obvious you're underage.' And the guy goes, 'I am not underage.' [He says,] 'No, sir, it's obvious. I'll get in a lot of trouble with the state. They'll lose their license here.' He goes, 'I am not underage.'"
Ultimately, the robber showed his ID to prove he was of age, and of course got caught since he revealed his identity. That's the kind of case
The Defenders
will take.
"I've found with the interviews that I've done with defense attorneys that they're guys," Belushi said. "They're really guys, and they are put in a position where they have to defend people that most people don't like. And they really have strong values and a strong sense of character because they really believe that everyone deserves due process, so they'll represent murderers, gypsies."
The footage the Gantzes filmed was available to the actors, so they watched it over and over. "I watched it a lot," Belushi said. "The spirit of those characters, Jerry and I are doing for sure. These guys are characters in the original documentary. They are so bright. They have great strategies in the courtroom, and in real life and the rest of their life, they're kind of not so good. They're not so good with women. There's a great comic element in one of the exchanges where he's talking to a stripper. It was a terrible exchange, but it intrigued me that these guys are so brilliant on the floor, and like our characters, we're morons with women."
The Defenders
filmed scenes for the first episode in Las Vegas, but otherwise they recreated it in a Hollywood studio. O'Connell claims that traveling to Vegas isn't as exciting as it used to be.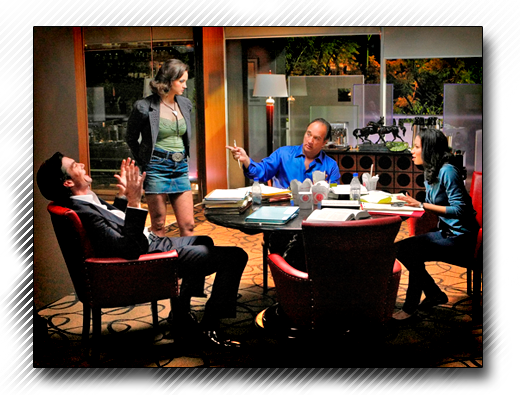 "I used to go to Vegas with about 20 or 30 friends, and we'd share one hotel room," O'Connell said. "There would be 30 of us sharing two single beds, so that's how I remember Vegas. But now that I'm married, look, I go there with my wife. A lot of shopping is done. To be honest, my credit card maxed out the last time we went there. I had a call, and I'm glad it maxed out because then the bleeding stopped at some point."
"But for my wife and I, we left the kids with my parents when we worked up there for close to a week, when we did
The Defenders
thing. We saw shows. The dining is great. [Belushi] took us to the
House of Blues
restaurant, thank you for that. It's a really fun grown-up experience, and I don't have to share a room with 20 other male friends and get passed-out drunk."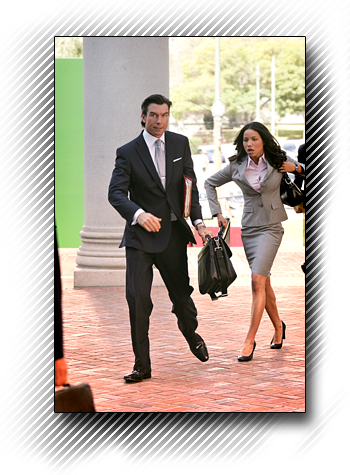 For Belushi, Vegas is all work. "Actually, I have a band, and I do a lot of corporate work with my band in Vegas," Belushi said. "My relationship with Vegas has switched from being a person going to enjoy the weekend, to an employee of Vegas, and it changes the whole chemistry of the town. So what I do is I go there, and I perform with my band and have a nice dinner and play roulette for 20 minutes and go home. I'm kind of a boring guy."
The legal battles
The Defenders
fight will be enough excitement for the actors each week. "When there was interest about me possibly coming in and playing the role of Pete, I went to go meet Jim at his house, and we were talking about the script," O'Connell said. "I just loved how these guys were. It was about criminal defense attorneys, and it wasn't about prosecutors, and it was like nothing else I had seen on television. It's fascinating. They're fascinating, and from a professional standpoint, they represent a lot of people that I'm not even sure public defenders would represent."
You can get away with almost anything in Las Vegas it seems. If you're in so much trouble that you're going to court, you need
The Defenders
. "The city itself is run kind of old school," Belushi said. "It was a cow town. They allow all this stuff to happen, but their rules and their laws are very strict."
You get caught up into that and you're in trouble. You need a lawyer. They don't mess around."
Check out The Defenders when it premieres Wednesday September 22, 10/9c
Viewers who want a peek into the lives of the Sin City lawyers that inspired the show should catch 48 Hours Mystery on CBS September 18th at 9 pm, ET/PT. It will delve into two of the most brutal cases the real-life pair ever faced.