Fall and winter fashion are sure to be monumental this season, as the Parisian elite have set the bar high on the world stage. A natural look and earth tones are both in, though the materials are anything but ordinary. We saw the return of some renaissance styling, and even a Nun as a fashion icon.


Jean Paul Gaultier's tall hats, a tip of the brim to the late Alexander McQueen, brought the golden age of French cinema back, while heavy furs created as much drama as anyone could pack into glamour. The signature trend is a high hemline protected by long fur trench coats, the return of the smock coat, and fantastic accessories like the oh-so-long cigarette filter. Following the parade of classic beauty, Gaultier's show ended with a strip tease from burlesque superstar, Dita von Teese.
www.jeanpaul-gaultier.com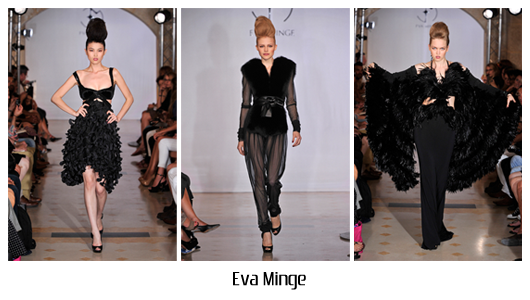 Beautiful models in little black dresses ran up and down the runway for Eva Minge, who used curled strips of fabric to bring a feathered magic to the classic look. She used shoulder pads and feathered skirts to bring an over-exaggerated silhouette to the catwalk. Her jaw-dropping finale was a flamenco-style gown with feathered wing sleeves.
www.evaminge.pl
In another fascinating turn, Stefano Pilati for Yves Saint Laurent wowed the audience by taking drab, matronly looks and sneaking bright colors in them. The line's silhouette suggested a parade of playful nuns, hiding bright cerulean heels and full-length leather gloves in their pockets. Pilati also reinvented rain gear, featuring couture ponchos with waterproof outer lining.
www.ysl.com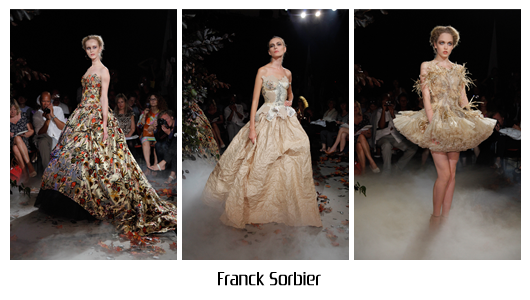 Franck Sorbier created dresses from paper, straw and even newsprint to bring organic fashion to life. First, Sorbier sent a cascading ball gown with a flowing crinkled paper skirt and a tailored cardboard bodice down the runway. Then, he featured a short sleeved, mini-crinoline stuffed with straw. Finally, the trench coat dress, a common look this winter, was done in headlines, literally, with metallic silver weatherproof vinyl accentuating the newsprint pattern.
www.francksorbier.com
For those who "J'adore Dior," you will be surprised by John Galliano's inspiration for winter couture – spring flowers. The House of Dior unveiled a little shop of botanicals – highlighting each bouquet-style look with colorful cellophane wrapped hair. Trench coat dresses bloomed with tiger lilies and dresses were like hanging orchids, exciting the eye and making a colorful statement for the winter. Galliano's work is hope bursting through the cold soil – an explosion of life.
www.dior.com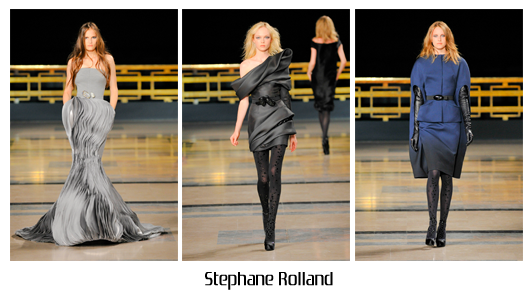 What initially seems like simple lines and typical drapes explode at the bottom with extreme ruffles on Stephane Rolland's full evening gowns. One gown combines sheer blue/grey chiffon with petal-shaped pieces of black and beige fabric that fall into a full train, which flows from the bottom of the smock bodice. Also, by exaggerating shoulders and hips in the silhouette, and playing with fade dyes and subtle color shifts, Rolland puts his own magical twist on evening wear.
www.stephanerolland.com
Also in the spotlight this year is the famous ruff from the English Renaissance. Most commonly thought of when William Shakespeare is mentioned, dresses by Armani and Valentino were highlighted with the tutu-style collar.
www.giorgioarmani.com
www.valentino.com
Last, but not least, is the visionary Elie Saab. In a bold gesture, he has taken the pantsuit, commonly worn by businesswomen in winter, and removed half of the bodice, thus creating an illusion of where the pants begin and the "dress" ends. This garment flowed down the runway, creating a wave of sparkling fabric that fluttered with every movement while disguising the silhouette of the model.
www.eliesaab.com
So this fall and winter, be inspired by the imaginative Parisian couturiers, and put a little irony into your winter wear. Bright colors and short skirts are meant to peek out from underneath your overcoat – bringing the freshness of Spring to your cold weather fashion.