Forges glow white-hot as molten globs are twirled and shaped into multicolored crystalline forms, a sixty-foot wall of purest Alaskan ice slowly melts under a hot Jerusalem sun, and a man with eye-patch roughly tosses brilliant glass balls into a small pond. Welcome to the world of renowned glass artist Dale Chihuly. The artist who has studied and practiced the art of glass blowing across the globe, has brought his works to Nashville's Frist Center for the Arts and the Cheekwood Botanical Garden and Museum of Art.
After the loss of his eye cost him his depth perception, he became more the conductor of a symphony than a lead guitarist. His paint-splattered shoes are evidence of the kinetic, ordered-chaos style of both his painting technique and his approach to glass blowing. Whether it's the actual creation of the pieces, or the reconstruction of an exhibit, he lets the natural variability of the medium into his work. "If you know exactly what you're doing, you can make it every time; it's not going to be interesting," Chihuly reflected.
Chihuly's works range in influence from sea life to Japanese flower arranging, but all embody an organic otherworldliness that makes them the perfect foil for their thoroughly terrestrial setting. Yet they are also strangely familiar and just similar enough to their everyday inspirations to draw you in and invite you to explore every curve, crease and color. At the Frist, the dark rooms and brightly lit exhibits like the
Mille Fiore
give the impression of an alien aquarium.
While the Frist's minimalist backdrops really allow the exhibits to shine, Cheekwood's natural surroundings are the perfect complement to Chihuly's work. Subjecting valuable glass artwork to the great outdoors may seem risky, but it's worth it. From the stand of blue glass tubes to a boat filled with swirling glass bulbs, it's hard not to feel a child-like wonder creep up upon seeing these Technicolor-inspired displays scattered around the Cheekwood grounds. If it makes you feel like a kid in a certain chocolate factory, you're forgiven.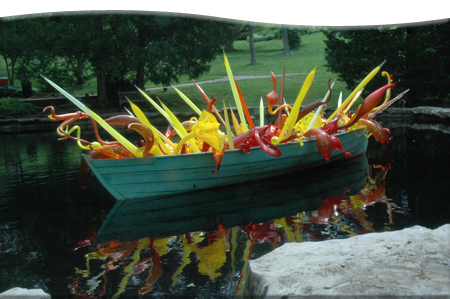 Indeed, Dale Chihuly, with his eye patch, brightly colored clothing, and commanding baritone, is every bit as striking a figure as the fictional Willy Wonka - but this is no candy shop. From his factory perch he commands a team of crack glass artisans in a precise ballet of fire and hot glass that is as entrancing as the finished product. The Frist is showing an Emmy-Award winning documentary of this process as part of the exhibit, don't miss it.
With all the naturally formed shapes, it is perhaps no surprise that Chihuly attributes much to his mother's love of gardens. "My mother was a great gardener, we always had beautiful gardens around the house," Chihuly says. "Perhaps some of my early influences very easily could have been the garden, because we had a modest house in an average neighborhood, but the garden was very big."
"Big" is definitely a staple of the Chihuly style, and he explains. "I don't know why I work so large, I very often push a series to its maximum size. I think sometimes I do it just to keep the glass blower at the very edge of their technical ability, to keep the tension high, to make it exciting, and to make it so that we don't know if it's going to break or not break… It has to have this tension if the piece is going to be good"
Despite his name being the one on the exhibit, he acknowledges how important the team element is for him. "I've got a lot of great, creative, talented people working with me" He says. "We constantly push ourselves to go bigger." Each piece in the exhibits begins as one of his splattered paintings (also on display at the Frist) and is made real by a team of expert glass blowers.