Like most pet owners, we love to pamper our furry friends—within our limits, of course. But what kind of attention do pets of the rich and famous receive? Apparently some wealthy pets live better lives that most of us will ever dream of. They've got it all, from designer clothes, diamond collars to luxurious beds and accessories. Look on in disbelief at some of the most expensive products ever made for pets.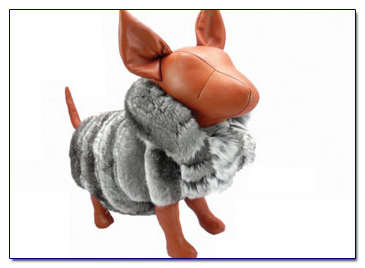 Mink Fur Coat for Dogs – $725
So your dog may have fur, but why can't your dog wear fur? The people of Hartman & Ross love the idea, and I guess you can, too. We are not sure what putting your dog in a mink fur coat says about you, but it sure makes a statement no matter where you go. And that's what fur coats have always been about, not exactly the warmth but the statement – which is what will be made when you enter the dog park with your pampered pet, draped in mink.
http://hartmanandrose.com/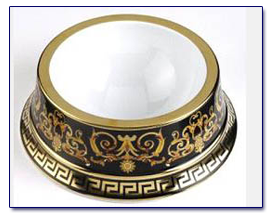 Versace Barocco Pet Bowl – $754
So your cat has a taste for the only the best cat food – why not eat it out of the best cat bowl? Yes, it's a cat bowl. It's hard to justify a 22-karat gold leafed Borocco Pet Bowl by Versace, mainly because cats can only see in green and blue – how will they ever admire the great gold-leafed design on the side?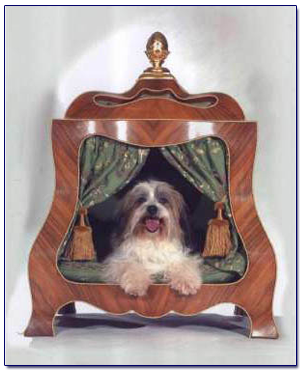 Louis XV Pet Pavilion – $23,990
Why should your dog have to sleep on that old blanket your grandma knitted when you can afford a pet bed that costs more than some people make in a year? Because he's just a dog, that's why. Seriously, we love our pets, but do they really need a flamboyant bed styled after an 18th century French Rosewood commode? For as expensive as this custom bed is, to our surprise, you still have to supply your own fabric.
www.pawprintzpetboutique.com/pet-pavilions-louis-xv.htm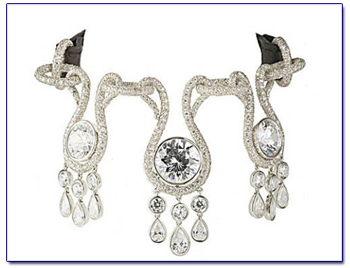 I Love Dogs 52-karat Diamond Dog Collar – $3.2 million
Yeah, we've seen snobby pets with diamond-studded collars before, but none as excessive as the I love Dogs Diamonds "Amour Amour" dog collar, studded with more than 1,600 hand-set diamonds on 18-karat white gold attached to a crocodile leather collar.
http://ilovedogsdiamonds.com/collection/amouramour.html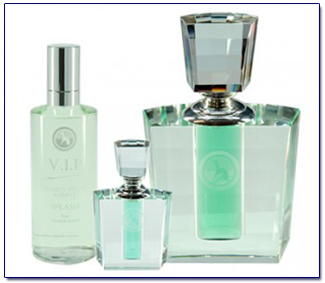 Sexy Beast Dog Perfume – $65
If you feel pressured to wear a high-end fragrance, imagine how your dog must feel? After all, other dogs are constantly judging your dog based on the way it smells. Don't worry about getting your pooch the wrong scent, though, the Sexy Beast Fragrance is unisex, with a mix of natural patchouli, mandarin and nutmeg oils.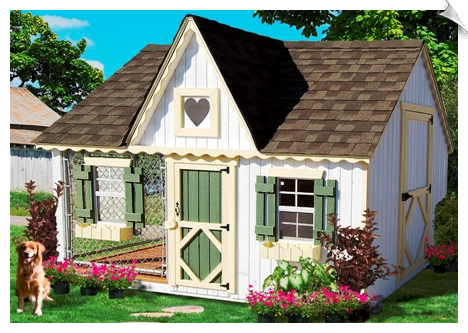 Posh Victorian Luxury Dog House – $2,795
When you just can't leave your dog outside for the day's errands or night's events, Doowaggle.com offers an array of luxury dog houses fit for the inner prince or princess in your tiny, furry friend. The 8-foot by 10-foot Victorian abode comes equipped with sweetheart trim, flower-potted window frames and an outdoor patio/kennel. After you get done spending the big bucks on this doggie palace, you get to put it together IKEA-style.
http://www.doowaggle.com/luxury-dog-houses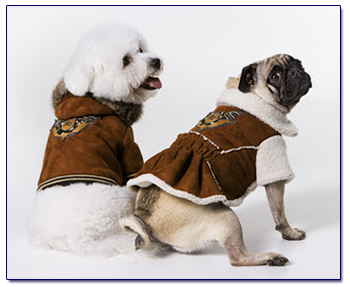 Roberto Cavalli Designer Pet Clothes – $110 – $1,200
There's a difference between putting an old t-shirt on the dog and taking some pics, and spending $110 on one that's meant exclusively for him. That difference being disposable income, or possibly some kind of personality disorder. If you fall into either of those categories, then you'll want to check out Roberto Cavalli's line of pet clothes catering to "pooch couture." The collection features a variety of elaborate satin bathrobes, silk shorts and velour tracksuits.
http://www.bornrich.org/entry/roberto-cavalli-is-all-set-to-dress-up-your-pooch/
Swarovski Dog Throne
While most people struggle to keep their dog OFF of their expensive sofa, some folks are spending insane amounts of money on Swarovski-studded thrones. We haven't confirmed a price, but we imagine that it falls into the "if you have to ask, you can't afford it" category. We also imagine no matter what you spend on this swanky pet chair, there's nothing stopping your precious pup from chewing up the wood frame or ripping up the mattress cover.
http://translate.google.com/translate?hl=en&u=http%3A%2F%2Fwww.quar-tier.com%2Fde%2Fprodukte%2Fwilbur%2Findex.html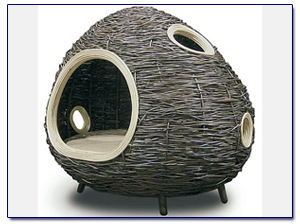 Cat Cabin – $1396
You know those little cat condos made of cardboard and carpet that usually run about $50? Yeah, we thought those were expensive… The Cat Cabin, made of wood and lined with a dirt repellent pillow, gives your cats a safe, comfy place to nap because apparently that pile of dirty clothes in the closet is beneath them.
http://www.homebasic.de/index.php?show=sturm%20und%20drang&product=5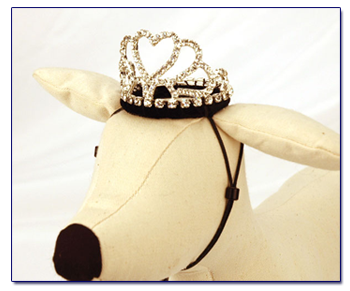 Dog Tiara – $4.2 Million
If you've got a few million dollars worth of jewels and lot of spare time then it's only natural that you'd make a $4.2 million tiara for your (male) dog. Two months and 250-karats later and your dog looks as unhappy as ever. The owner plans to make a hair clip made of jewels as well… probably because it's hard for the dog to keep his head up with a tiara weighing him down.
http://www.bornrich.org/entry/42-million-designer-tiara-for-pampered-poochie/