Old Southern towns just ain't what they used to be - they're so much better. Such is the case with Shreveport, Louisiana and its neighbor across the legendary Red River, Bossier. With its old timey architecture contrasting with its new-found urban sophistication, and Riverboat Casinos to boot, it's no wonder that Shreveport is a popular tourist and convention destination for people with widely varying tastes.
After a pleasurable flight from Nashville on American Airlines, my plane landed just in time to meet up with a group of journalists who, like myself, were there to learn more about the area called "Louisiana's Other Side". It's located in the Northwest corner of the state, and is only a few miles from the Arkansas border to the North and the Texas border to the West.
Day 1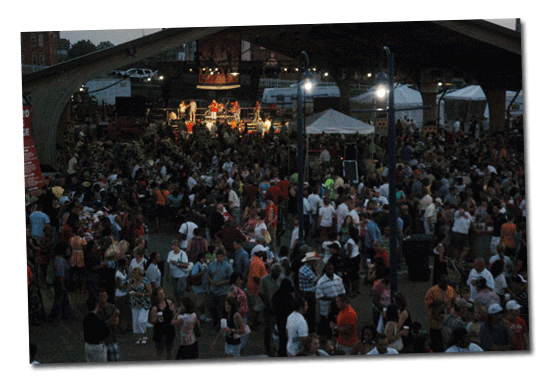 I arrived in Shreveport just in time for an afternoon visit to the annual
Mudbug Madness
music & art Festival. Featuring a great lineup of local jazz musicians including
Dwayne Dopsie
& the
Zydeco Hellraisers
and the local favorites
Rockin' Redeyes
, it was just the right kind of event to put me in a party mood. For those of you who don't know what a mudbug is, join the club. And for those of you who don't know how to eat them, join the club again. For your edification, a mudbug is a not-very-easy-to-eat crawfish that you are supposed to eat with your fingers, usually accompanied by corn and potatoes. How best to open them though is a matter of some dispute, with four (yes four) earnest teachers at my table demonstrating how
they
do it, each convinced that their technique is best.
After a while, my companions got tired of the mess I was making, with morsels of crawfish meat, shells and lots of butter all over myself, and made some excuse to get away from me. Woe is me, I could not quite master the technique.
Enter a tall, lanky Cajun man, an ironworker who had the day off from his construction job. I had noticed him eyeing me from afar, but was taken aback by his approach. He introduced himself as Anthony, and told me I was opening the mudbugs all wrong. My friends had led me astray, he said. He showed me
his
technique quite proudly, and then, totally unprovoked, he launched into a detailed history of the area, beginning with the arrival of the Cajuns from Canada, accompanied by their mudbug friends, and ending with the social interactions of Creoles and Cajuns through the 18th Century. His mission apparently complete, he stood up to leave, but not before his parting question, "Do you know what makes Louisiana so special?" After a moment, he answered his own question, "Spice…….(long pause)……and variety, spice and variety." On that note, he turned and walked off into the crowd never to be seen by me again.
www.mudbugfestival.com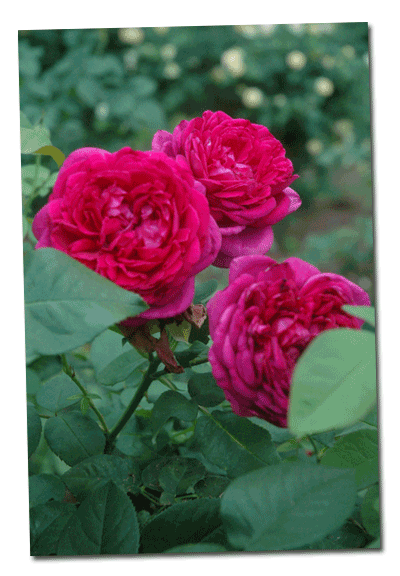 From the sublime to the more sublime, my next stop was the magnificent G
ardens of the American Rose Center
, the headquarters of the American Rose Society. Nestled within 118 acres of beautiful flowers, including jonquils, dogwoods, magnolias and so many more, in a serene forest setting, more than 20,000 roses are planted there in 60 individual gardens. Although I fancy myself a rosarian, the truth is I'm actually a rosicutioner, a word I made up which means "murderer of roses". Somehow, between the dogs, the bugs, summer drought and black spot, my poor pitiful roses don't stand a chance. So I was thrilled to learn that the American Rose Center goes far beyond just displaying magnificent blooms, but is also a research center for not only new hybrids, but disease-resistant ones as well. Some of you may be familiar with the relativelydisease-free Knock Out® Roses, but did you know that now you can purchase Double Knock Outs® with more than twice the petals of the original, and best of all, especially for me, they might live. Lovely!
www.ars.org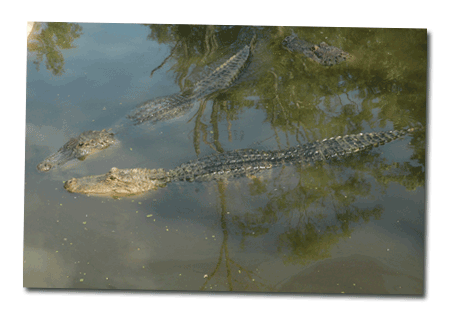 For a change of pace, I made a quick visit to the fascinating
Gators and Friends Alligator Park
and Exotic Zoo, which not only houses gigantic hungry (just kidding) alligators and an occasional sleepy (not really) crocodile, as well as many more than the 40 pairs of God's creatures that Noah put on the ark, including tame miniature horses, kangaroos, ring-tailed lemurs, goats, llamas, a camel and a capybara. As the world's largest rodent, you definitely would not like to find him hanging out in your basement.
www.gatorsandfriends.com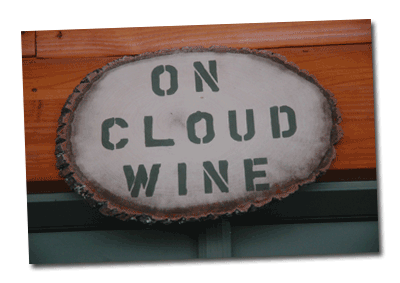 Well, since it was 5 o'clock somewhere, it was time to start drinking. My first stop was a charming winery called
On Cloud Wine
, aptly named for the delightful vino and charming wine-related gift items offered at its gift shop. Since owner Debbie Keckler was obviously in a jolly mood that day, she invited myself and our group to a wine tasting, where we could sample her offerings. I was completely smitten by
Penelope Peach
, in which delicious peach and apricot flavors are blended with Chardonnay. Others preferred
Southern Hurrican
e, a pinot that shows off a pleasant floral fragrance, and
Black Bayou
, in which the aroma and flavors of freshly picked raspberries merge with the flavors of the rich merlot grape.
www.oncloudwineonline.com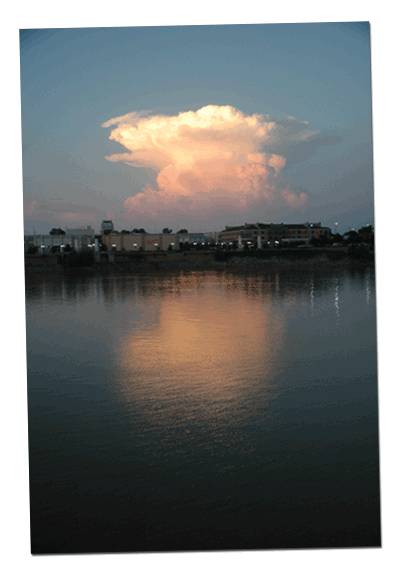 I should have been tired from the flight but instead I was wired so I decided to head off to a summer concert series called
Eldorado Resort Casino & Friends of Barnwell "Hot Jazz on the Red."
The Red herein referred to is a river, a famous river in fact, and the reason that Captain Shreve came to the area in the first place (look him up!) (
http://en.wikipedia.org/wiki/Shreveport, Louisiana
). It is also home to 5 casinos that float on the Red since an arcane Louisiana law doesn't allow gambling on land (This is really true!). On one side of the Red is Shreveport, and on the other sister Bossier City. To get to the point, the Barnwell Center is located on the Red and has a fabulous patio, overlooking the river and providing a fabulous view of the odd Texas Street neon-covered Bridge that attracts tourists like myself, and makes them take lots and lots of photos of it.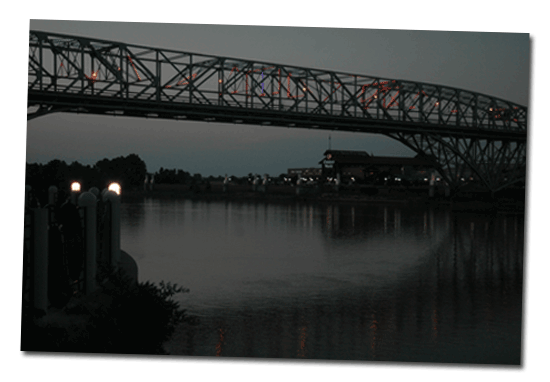 The band that played that night was a local sensation named
Jazziana
, and a sunset dinner (and drinks of course) was offered by the handsome Jimmy Russo, who owns
Monjunis Italian Café & Grocery
, the area's original Italian restaurant. Now a hungry group, we chowed down on delicious
Spaghetti with Tomato Sauce, Homemade Lasagna, and Chopped Salad
made from delicious old family recipes.
www.monjunis.com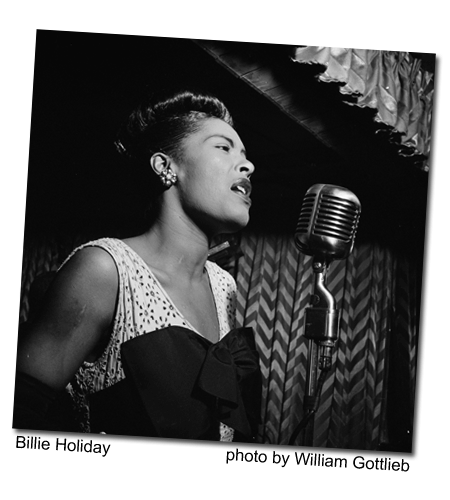 As I am by nature a wanderer, I just had to wander after that great dinner. Because of this fortunate habit, I discovered the Barnwell's Main Gallery exhibition of unforgettable photos of the jazz greats of the 30's and 40's taken by William P. Gottlieb. Gottlieb was a jazz fan, working first as a photographer at the
Washington Post
and later for
Downbeat
, a popular jazz magazine in New York City. His unforgettable photos of Louis Armstrong, Benny Goodman, Billie Holiday and so many more, bring the faces of that beautiful music to life. Also, don't miss
The Store at the Barnwell Center,
which features one-of-a-kind contemporary handmade crafts, and carry the coveted "Handmade by Louisiana Craftsmen" logo.
www.barnwellcenter.com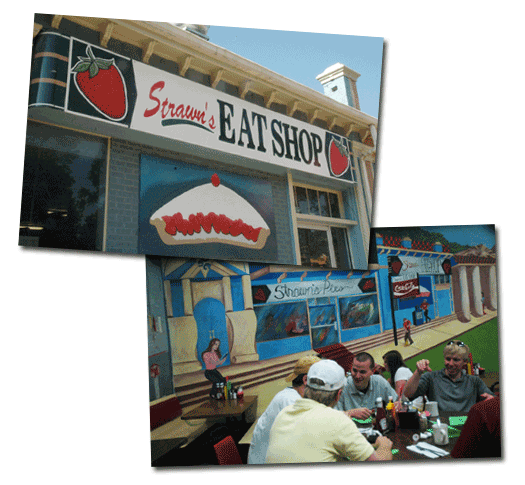 Day 2

We began the day at the original
Strawn's Eat Shop
on Kings Highway, founded by Mr. Strawn in 1944, and as fine a greasy spoon as can be found anywhere. With its original décor intact, including historic wall murals and fixtures, unique offerings and reasonable prices, it's a great place to visit for breakfast, lunch or dinner. For breakfast, how do
Hot Cakes and Cream
for $6.25 sound? With optional chocolate chips for an additional 50¢? Or for dinner
Chicken Fried Steak, Scalloped Potatoes, Mustard Greens
, ($7.50) and the restaurant's specialty
Strawberry Ice-box Pie
($3.50) for dessert? A reason in and of itself to visit Shreveport!
www.strawnstoo.com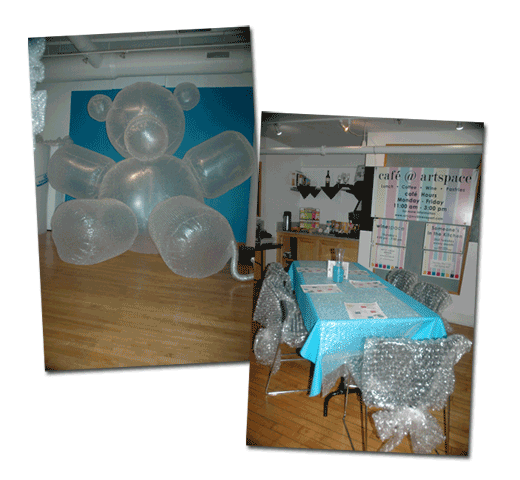 One of the most thrilling experiences for me was at the
Artspace at the West Edge
, a modern gallery featuring the work of cutting edge artists. Actually, it reminded me more of the kind of gallery you would expect to find in New York City rather than Shreveport, one of the city's many surprises. Fortunately for me, I visited there during an exhibition called
POP
, believe it or not a tribute to BubbleWrap's 50th Anniversary. (Yes, popping is allowed). Featuring the artworks of Marshall Dines, Bruce Allen, Micah Harold and other inventive souls, this show, as well as the accompanying fine art cartoon exhibit called
Maximum Mindshare by Tony Reans
, are awesome and should not be missed.
www.artspace@shreveport.com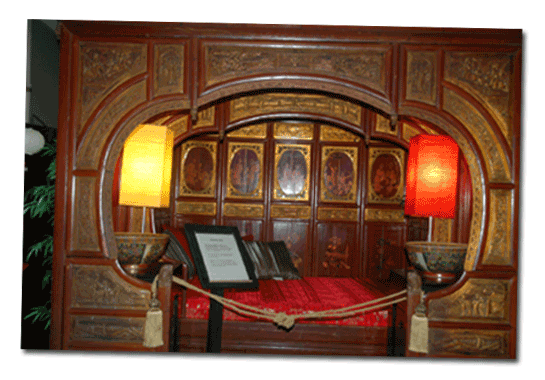 Even more surprising than Artspace is the newly expanded
Multicultural Center of the South
featuring a priceless collection of authentic art, crafts, furniture and artifacts telling the story of the 26 cultures that have been identified as living or formerly living in the area. The variety is surprising, including African, Hispanic, Greek, Scottish, Indian and more.
www.mccsouth.org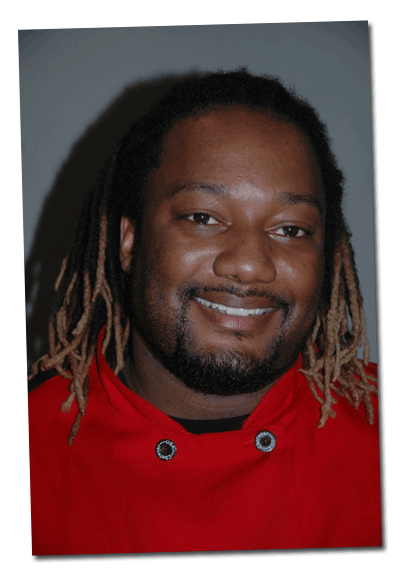 Time flies in Shreveport let me tell you, and lo-and-behold it was lunchtime again. Still waddling from my amazing breakfast at Strawn's, the thought of my empty fridge back home made me determined to eat while I could. But eat, as it turned out, was the wrong word for the incredible lunch that Chef Jim Ragon spoiled us with at
Abby Singer's Bistro
at the brand new, hi-tech
Robinson Film Center
. Feast would be a much better word to describe the delicate soups, crepes and other delicacies he prepared for us.
Having a world-class film center is a coup for any city, and Shreveport is appropriately proud of the facility, which offers independent, international and classic cinema of the highest caliber. In addition, it offers educational and technical services to the film community, and the Hollywood types shooting there. And Val Kilmer, Oliver Stone, Margaret Avery and other stars have all attended special screenings at the Robinson! "Dinner and a Movie" is definitely an experience not to be missed!
www.robinsonfilmcenter.org
By the way, do you know that the Shreveport area is a
major
film production center? It all started in 2005 when Hurricane Katrina displaced a number of films in South Louisiana. The S
hreveport- Bossier Film Office
has a reputation for making production easy, with full city government support and streamlined paperwork and permit processing, In addition, the cities' increased expenditure on infrastructure development is a lasting investment. Also,
The Louisiana Wave Studio
made for the film
"The Guardian"
is the 2nd largest wave tank facility in the world! Follow the fascinating self-guided
Film Trail Tour
to see how Louisiana can transform itself into locations as diverse as Kodiak, Alaska and New York City. Films as diverse as "
The Mist", "Mr. Brooks", "Soul Men", "W.", "Factory Girl"
and even the hit HBO TV series
"True Blood"
have all been shot in the area.
www.shreveport-bossierfilm.com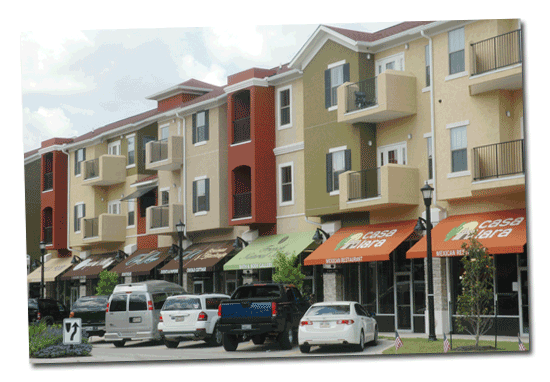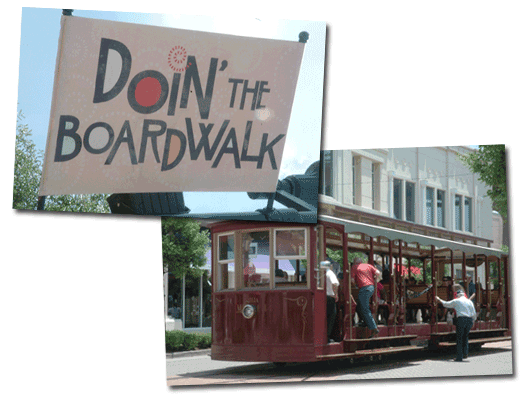 From the sublime to the fabulous was my visit to the
Main Street Shops at Villaggio
, where I left quite a bit of my hard-earned Nashville $$$ in the 55,000 sq. ft. of shops and galleries. Another great shopping spot for those fashionably inclined is the
Louisiana Boardwalk
, the largest outlet, lifestyle, dining and entertainment destination in the state of Louisiana, home to over 70 retail stores and restaurants. From movies to ice cream, sporting goods to kitchenware, latest fashion to great food, the Boardwalk is the place to see and be seen, especially aboard the cute and handy old-timey trolley that takes you from place to place in style.
www.villaggiobossier.com
and
www.louisianaboardwalk.com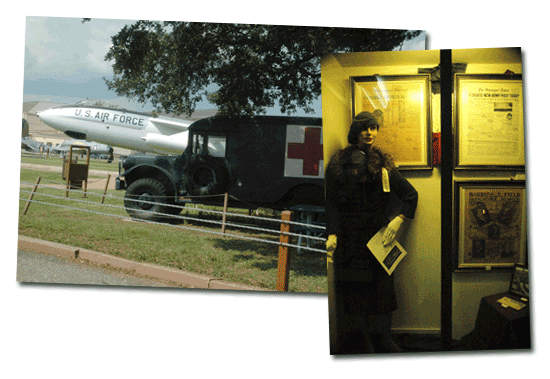 Then, like I was in
Back to the Future
, I went back in time to the
Eighth Air Force Museum
located on the still-active
Barksdale Air Force Base
. With an awesome collection of vintage uniforms, photographs, and even airplane parts from the WWII era, the collection captures the imagination with the way it once was in this world. Actual room settings and vignettes from the period enhance that feeling.
www.8afmuseum.com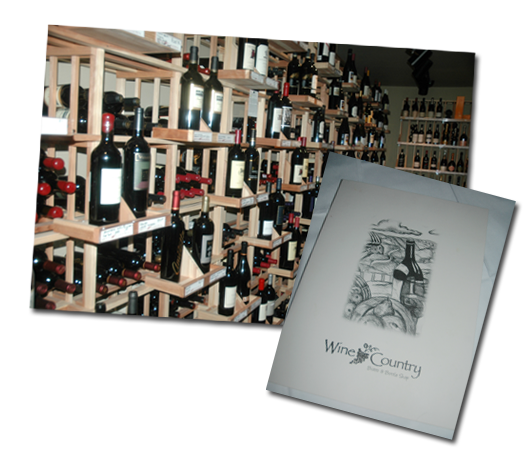 Once again it was dinnertime. I donned my girdle (just kidding) for our next extravagant food experience at the
Wine Country Bistro & Bottle Shop
. Proprietor Jason Brady, after working in restaurants in NYC and Italy brought his exceptional skills to Shreveport. Think about
Roasted Red Tomato Soup with Apple Smoked Bacon & Thyme-Chevre Crème
($7)
, Gulf Lump Crab Cake in a Creamy Shrimp Emulsion on Grilled Flat Bed with Wild Arugula
($16)
, and Sauteed Rainbow Trout Amandine with Creamy Whipped Potatoes and Sautéed Haricote Verte (
$19). Still hungry? How about Crème Brulee Ice Cream ($6) to finish.
www.winecountrynet.com
After all this activity, some folks might want to spend the evening sleeping off the sights and sounds they had experienced that day, and some might want to revisit the Mudbug Festival, but in an act of rebellion against food and culture, I decided to hit the casinos.
And even though they are small in comparison to say, Vegas, they still have the necessary accoutrements including elegant restaurants, dimly lit bars, entertainment and yes, gambling- at least on the portions of the building that are on the water. I hate to say this, but my only weakness (that I'll admit to), roulette, got me again that night. Check out
Sam's Town Hotel and Casino
, the
Eldorado Resort Casino
and the
Horseshoe Casino and Hotel
, which is home to the first-ever C
MT Crossroads Bar
.
Day 3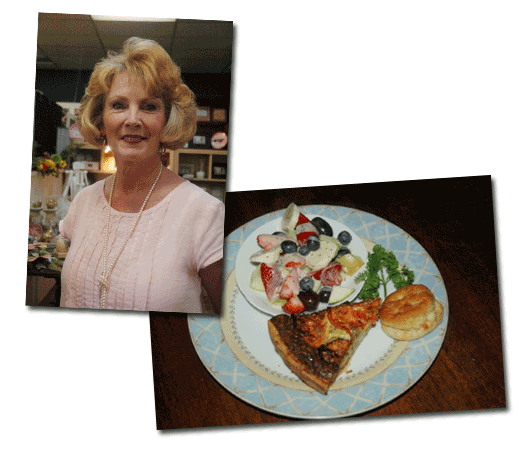 A bit bleary-eyed after the previous day's and night's activities, I was still ready, willing and able to head off to what sounded like another amazing breakfast adventure at the
Glenwood Village Tearoom
, founded by a petite and soft-voiced former air force officer
named Sharon McCullar. Experience old world surroundings as in Centuries past in the old-fashioned Victoria and Albert styled rooms. Though open for breakfast
and
lunch, I loved the
Canadian Bacon and Gouda Quiche
($6.75), which I actually ate with F
resh Fruit and Honeyed Yogurt Dressing
($6.50) and of course drank with the most delicious
Angel's Dream Black Tea
, which can be ordered online.
www.glenwoodvillagetearoom.com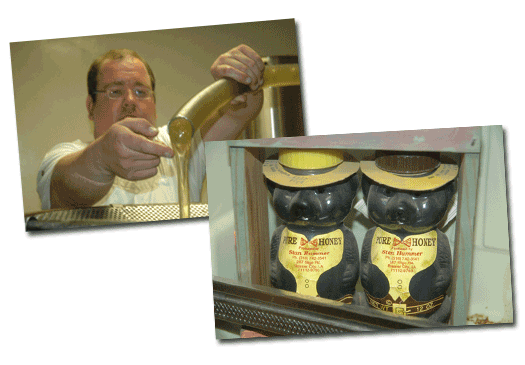 Did you know that every bee that works in the production of honey is female? And the ladies answer to only one all-powerful monarch- their Queen. Male bees are simply kept around for procreation, and are allowed no opinion and have no rights. Sounds like a science fiction movie, I know, but it's true, or at least it's true according to Mr. William Hummer, of
Hummer & Son Honey
. A charming 2nd generation bee-keeper, his
Hummer Honey
is sold throughout the US in supermarkets like Kroger and Albertson's. Since the honey's flavor comes from the flowers the bees ingest, it can taste like sage or buckwheat, or can be infused with a hint of Orange Peel or Chili Peppers. Standing around in the honey room tasting fresh honey straight from the combs is quite an experience, as is being surrounded by literally a hundred bees busily doing what bees do, and praying not to get stung.
www.facebook.com/pages/Hummer...Honey/50265592249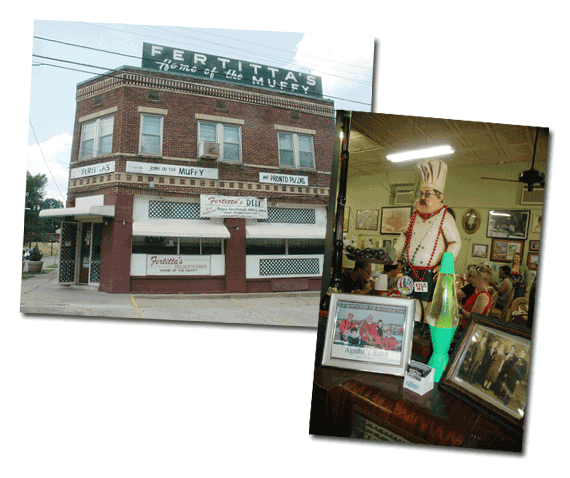 Another highlight of the trip was, (I'm sure you won't be too surprised) lunch (don't say a word) at the historic
Fertitta's Delicatessen
, home of the famous
Muffy
Sandwich which, by the way, turns 50 this year! Founded by Papa Fertitta, who began the tradition carried on by his descendants to this day of "living above the store", the unprepossessing brick building out in the middle of nowhere is listed in the National Registry of Historic Places. With generations of gadgets, photos and memories, the décor harkens back to earlier days when life was simple and the Muffy was newly born. Don't be fooled by the Muffy's gentle-sounding name, since theses sandwiches pack a wallop with the
Turkey "Gladiator", Cajun Roast Beef, Pepper Jack and Horseradish "Centurion", and the Italian Meatballs, Mozzarella Cheese, Garlic butter & Marinara "not for the faint of heart" "Gondolier" Muffy
(Small $6, Large enough for 2 or 3 or 4 $16). When the Fertittas greet you at the door as they always have, be sure and say Dish sent you! Perhaps you'll get a little extra Papa Fertittas Olive Mix on your Muffy for your trouble.
www.papafertitta.com
Alas and alack, only one more experience lay ahead, a visit to the, as it turns out, awesome
R.W. Norton Art Gallery
, originally established with donations from the private art collection of oil baron Richrd W. Norton, Sr. It contains the family's collection of rare books, 300 Wedgewood pieces, royal tapestries, fine European Masters paintings by artists such as Camille Corot, Jacob van Ruisdael and Sir Joshua Reynolds. There are also the (Frederic) Remington Galleries, the American Art History Galleries including works by Winslow Homer, Mary Cassatt and Childe Hassam, and so much more. The Norton is set in the midst of 43 beautifully landscaped acres, including azalea gardens, more than 10,000 plants and rare outdoor sculptures, of course. Best of all, there is no charge for admission!
www.rwnaf.org
After all these great experiences, I look back fondly at all the great meals, fun places and fond memories, plus new friends I made in Shreveport- Bossier. I'm definitely not looking forward to that old empty refrigerator waiting for me at home.
The solution? Come back to the "The Other Side" as soon as possible! For more on this great travel destination,