The prime May-June wedding season might be behind us, but next year's crop of starry-eyed engaged couples are already eyeing majestic churches, scenic lakeside resorts, and back yards across the country, looking for the best place to seal the deal. A brave few will exchange rings overseas, and while it isn't for everyone, a destination wedding definitely has its perks.

I admit, when my betrothed first suggested a Mexican wedding, I was skeptical. Sure, it's beautiful down there, but everyone would have to travel, my Spanish is -how do you say? - "terriblé," and then there is the whole question of our legal documents being made in Mexico, with the resulting language barrier. If you've got the same questions, read on to see if taking your nuptials south of the border is just what el Doctor ordered.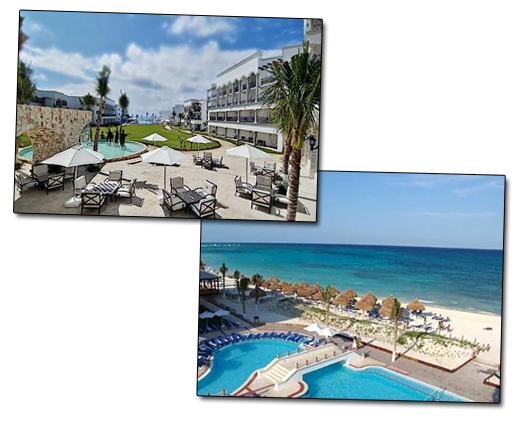 If you are like me, you are probably wondering just how much dinero this is going to cost. Honestly, you'd be surprised. Wedding packages at our resort, The Royal at Playa del Carmen, started at $800 USD for 15 guests (additional guests add as little as $10 each) This paltry sum includes cake, seating, recorded music, champagne, and set up for either a beach wedding or a gazebo-on-the beach wedding. Even with another $400 simoleons for a bona-fide Justice of the Peace this still looks pretty good compared with the $25,000 or so that the average American wedding cost in 2009.
Of course, the catch is that any attendees that want to stay more than 2 hours will have to be guests of the hotel, which will run you significantly more than Motel 6. Prices are subject to change, but I scored 7 days 6 nights in paradise with round trip air-fare (including peanuts!) for under 1,500 big ones. Now, here's the kicker: that includes everything. 3 meals a day at any of 7 very nice restaurants, room service, an always-open snack bar, coffee bar, and if you intend to imbibe, the libations flow freely at the beach, the pool, and even your marble-floored room is well-stocked.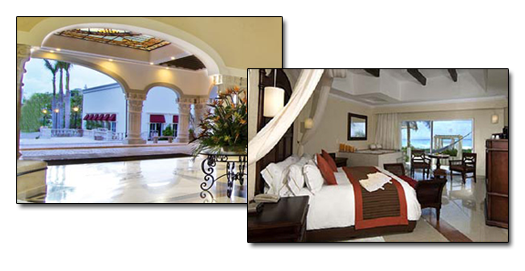 One of the unexpected perks of going all-inclusive is that it completely takes the guilt out of ordering. Want a soup, salad, two entrees and 3 desserts? They all come out with the kind of flourishes and style normally reserved for wealthy gourmands. Or you can enjoy a burger and fries in your suite's jacuzzi, it's your vacation!
Ah, but once you and four witnesses meet the legally mandated 2-day paradise residency requirement, you can get back to that whole wedding business. By now, you have had the date and time booked for several months (slots fill up fast), picked from an incredible selection of boutonnières, bouquets, cakes, and selected which culinary delights you plan to serve at your reception. They set up the tables, chairs, speakers and have toast-ready champagne chilling for the newlyweds. The friendly wedding coordinator has made sure all documents are in order, so there will be no hiccups when you land State-side.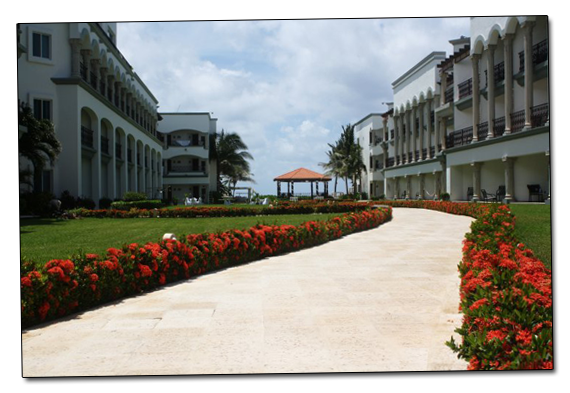 Now, I wouldn't change my beautiful beachside wedding for anything in the world, but there are definitely drawbacks. For one, this will definitely pare your guest list. Plenty of people will balk at the travel, the price of admission, or the family-unfriendly minimum age requirement of 18. However, if you're aiming for a smaller, more intimate affair, then this is a good way to ensure that without a lot of hurt feelings.
Another point to consider is travel. I recommend using a good travel agent to coordinate the whole thing, unless you are a seasoned air-travel veteran. Even so, getting passports, running from gate to gate to catch your flight, going through security, and finding your way to the hotel – all the while safeguarding your dress, which should be your carry-on – can be a little on the stressful side.
Surprisingly, a legal ceremony in Mexico also automatically marries you in the U.S. Go figure. A little less streamlined is the process of submitting your new Telemundo-friendly wedding certificate as evidence for a name change or other legal purposes. Fortunately, the folks at our local DMV eventually decided our
"Certificado de Matrimonio"
was legit, but only after a few minutes of heart-stopping head-scratching.
One final tip: most beaches, unless otherwise stated, will be open to other guests during your ceremony, so be aware that while most people will give your festivities a wide berth, there's no way to guarantee someone won't photo-bomb your big moment. My advice is to do it early: our ten o'clock knot-tie meant cooler temperatures, fewer people, and less chance of a storm. With the wedding out of the way, you and your newly significant other can just enjoy the day.