Shopping can be the most stressful part of Christmas, mainly because of those impossible-to-shop-for people who already have everything, or tell you not to get them any gifts.. My mother is this way. So, I can only imagine how hard it is to shop for pets. Even if they wanted something in particular, they wouldn't be able to tell you. And besides a bed, some food, and a few treats, they really don't need anything else. So what do you do for this holiday season? Thankfully, Dish has a trained "pet whisperer" (an octopus named Fred) who has filled us in on what's hot this season in pet gifts. Happy Howlidays.

Pinot Leasheo (Dog Gravy).
From Bark Vineyards, comes this delicious substitute for the those furry members of your family who can't enjoy a nice glass of pinot grigio. Pinot Leasheo is a gravy that you can pour on top of your dog's food to enhance his meal's flavor, like the right glass of wine will do for your own. Bark Vineyards also produces a melodious "Meowlot," a savory "Sauvignon Bark," a beautiful "Barkundy," and a wonderful "White Sniff 'N' Tail." Rumor has it, they are also in the process of bottling "Cham-Pain-In-The-Ass," a delightful "sparkling wine" that can brandished at your dog when he's eaten your shoe. (350 mL bottle, $13 for 750 mL bottle $20)
http://www.barkvineyards.com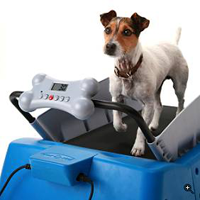 DogTread Doggie Treadmill.
Does your small dog have too much energy? Does he bark at you when you're trying to do important work because he wants you to throw his ball but you really need to focus and would rather he just lay down? Well, Frontgate has the answer for you: DogTread, the doggie treadmill. This piece of canine exercise equipment is durable and sturdy, and can be programmed to run at varying speeds, depending upon how much work you have and how long you want him to sleep. The DogTread is also aesthetically pleasing and doubles wonderfully as the second greatest dust collector in your household. It is only topped—and barely so—by that other well-intentioned investment: the real treadmill. ($499)
http://www.petzenproducts.com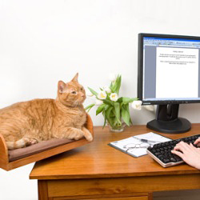 Brookstone Desktop Cat Seat
The perfect item for the cat that loves to sit by his owner while he works. Also the perfect item for the cat owner who loves to pet his feline friend while he works, or needs something to hit when his investments go south. ($30)
http://www.brookstone.com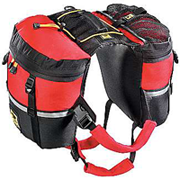 Moutainsmith Dog Pack.
They say that dogs are man's best friend, and what better way to reassert this maxim than by getting your dog the Mountainsmith Dog Pack. Gone will be the days that you had to lug your laptop, your portable TV, your minifridge, and your pet lead weight through the great outdoors. Heck, all you'll need now is a fanny pack, and a bit of that spirited determination—only found in America—to get off the couch. ($55)
http://www.mountainsmith.com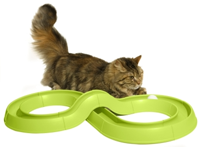 Bergan Turbo Track.
This fun toy is described by its maker simply. "It's a track…with a ball in it." Except this track can be configured into several different shapes, providing new entertainment for the cat that gets bored easily. And you can keep expanding! The website recommends buying ten tracks if you really want to keep your cat entertained for days on end. And if that still doesn't work, the Author recommends buying a catapult. ($18)
http://www.entirelypets.com/berganturbotrack.html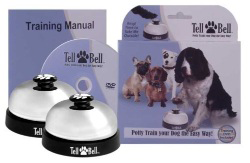 Tell Bell. Ding Ding!
Do you hear what I hear? That's the sound of Buddy saying he needs to go potty! From the makers of nothing else, comes the Tell Bell, a specialized training device that permits a dog to "tell" his owner when he needs to go outside to use the restroom. Just leave it by the door and your pooch can step on it when he hears the call of nature. And if you're worried about being hard of hearing, don't be! The makers of Tell Bell have the answer for you, too: the Dum Bell. This handy device is a 15lb weight that your dog can pick up in his mouth and simply drop on your foot when he needs to tell you that nature is calling. (Tell Bell $24) (Dum Bell found in gyms everywhere)
http://www.tellbell.com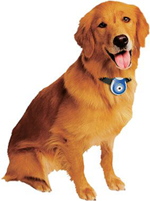 Pet's Eye View Camera.
They say the surest way to know a man is to walk a mile in his shoes. But what happens if the man you want to know isn't even a man and doesn't wear shoes? Like, say, your dog? Well, you can do the next best thing: see the world through his eyes, thanks to the revolutionary Pet's Eye View Camera. This lightweight, compact, and durable digital camera attaches right to their collar and allows you to see what they do all day while you're at work. Do they nap? Do they eat? Or do they cause mischief? You'll know soon enough! Pet's Eye View Camera also doubles as the Spouse's Eye View Camera. Just attach it to their collar, and you'll finally be sure of their every move! ($50)
http://www.gifts.com
Marineland LED Bubble Wand.
You love going to the club, don't you think your fish would, too? Give them the experience of being in a room of flashing lights, surrounded by inebriated individuals who are sweating more than they are dancing attractively. The Marineland LED Bubble Wand has six LEDs for the creation of a striking light feature in your fish tank and produces a curtain of air bubbles for proper gas exchange. Choose from four colors: moonlight blue, red, green, or white. It also looks great sitting next to your lava lamp, and is sure to be a hit with the ladies who love nothing more than a man with shag carpet and chest hair that could pass for shag carpet. ($20)
http://www.fosterandsmithaquatics.com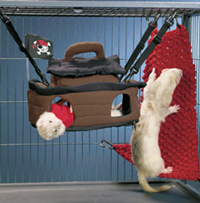 Marshall Pirate Cage Accessories.
Pirates were notorious for their ferocity; so are ferrets.. So, naturally, why not get them a pirate ship for Christmas?! The Marshall Pirate Cage accessories include a ship ($17.49), the Bandit Bridge ($9.99), and the Pirate Net ($9.99) and ensure your furry friend will have years of fun "sailing" the seven seas in search of buried treasure.
http://www.drsfostersmith.com