Who isn't obsessed with a British accent? I have even attempted imitating one and using it at bars to pick up chicks. The first time I tried, however, I unknowingly used it upon some British girls who were vacationing in Nashville.
Me: 'ello lydies, how 'bout some shrimp on the barbie?
British Girls: We're from England, you arse.
Me: G'day, then!
I'm not exactly sure what is so attractive about the British accent, perhaps it is in our American genes to long for someone from our homeland, but it's powerful. So powerful that Ben Elman has started a new dating website for women called DateBritishGuys.com. The site will hook women up with British men that live in the States. Although the Author may disagree with this movement, the ladies at Dish think the website is a great idea. Why? They'll give you seven reasons.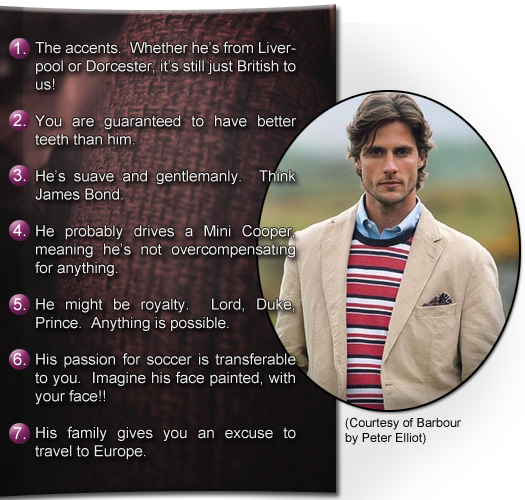 The website is rather new, and the first 1000 members can join for free. So, whether you're looking for a serious relationship, or just a shag, give it a go. You may end up with Prince Charming. Literally.