Alright soldiers, it's do or die. "Black Friday" is almost here; for you greenhorns, that's the day after Thanksgiving. Retailers offer once-a-year holiday deals to those who roll out of their barracks bright and early. But this early bird special ain't for grandma. You'll face crowds of angry shoppers looking to snag that hot toy for little Jimmy. If you're in the way, not even your momma can kiss those bruises away. You think that 75% off triple
De
-luxe Blu-Ray player is going bake you cookies while it waits for you? What is your major malfunction?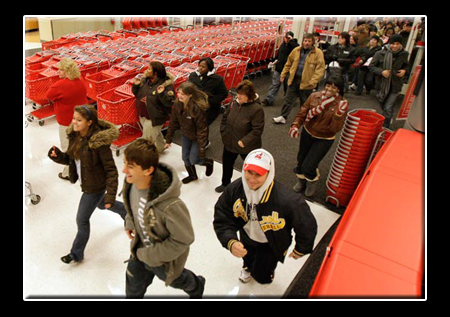 Lucky for you, the crack shopping squad at
Dish
has your back. We earned a Purple Heart during the Ninja Turtle Massacre, saved a busload of schoolchildren from Power Ranger danger, and snagged a Silver Star for our tour in Operation
Tickle Me Elmo
.
Your first priority is figuring out a plan of attack. I prefer to fight face-to-face but you pencil-pushers out there may want to make your purchases online. Brick and mortar stores often have their best deals online too, sometimes even before you can buy them in-store. These deals may go live as early as 2400 to 0400 (12 midnight to 4:00 a.m.), so scan fliers way ahead of time to pin-point your target deals. Now don't go thinking you're a special snowflake, plenty of other people will be eyeing the same bargains, so keep that itchy trigger finger on the refresh button. When that price changes, lock and load!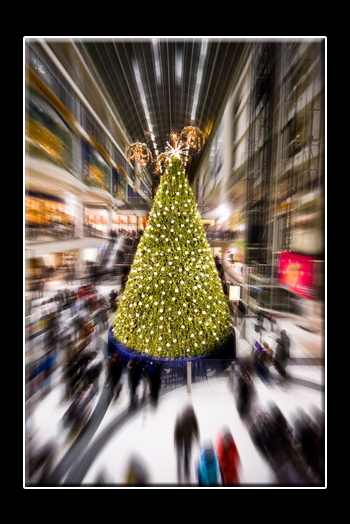 For those of you who have tasted the thrill of the hunt, seen the carts of enemies spill, and wrested the last Bratz doll from the shelves, you know nothing beats actually bringing your team to the trenches. But if you're going to put boots on the ground, you can't go in there like a babe in Toyland; you need to prepare!
There's an app for that, soldier! Blackfriday.fm offers a free application for the battalions of iPhone and Android users out there. It's your eye in the sky for up-to-the-minute deal announcements, store circulars, bargain searches, prices, and creating your shopping list. That's what they call a "force multiplier," son.
What's that? Daddy's little girl didn't get a smart phone? Just use the internet to find the deals you want at the stores you want. Pay attention to your time horizons. If a deal goes bad at 1100, don't dilly-dally in housewares, get your cart to the LZ. Use an online map tool to plan your route from store to store. Head first towards the stores with a target-rich environment, when you've got more energy and the deals are fresh.
Likewise, you may think you're the KGB of Wal-mart, but some stores move their wares to new landing zones to relieve congestion. Mom's Elvis Costello compilation might be next to the vacuum cleaners. Hit all your targets by double-checking for maps or notices of this online. Make a list of all the VIPs you have to shop for, so you don't leave a man - or woman - behind. HQ will bust you down to Sergeant if little Suzy doesn't get a My Little Pony this year.
Next step? Assemble your human assets. Leave the kids and spouse at the home front. Even if you're not shopping for them, bringing a loved one to the battlefield is never a good idea. If you must, make them the line-place-holder. Either way, put someone in the checkout line as soon as you walk through the door. If you need more time, you can always call and have that person discreetly let someone get in front of them. If you have specific items to get, you can send a wingman to that part of the store while you clear your zones. Rendezvous at the checkout line and you'll be ready for extraction in no time.
Once you've got your band of brothers – or sisters – start packing your supplies. Make sure you bring plenty of rations so you don't get pinned down in a crowded food-court crossfire. If you're fresh out of MRE's ("Meals Ready to Eat" for you civilians out there) then make sure you snag energy-rich foods like nuts and fruits – a bag of trail-mix is perfect.
Clothing should be comfortable and layered. You need to be well-padded for the early morning cold, but be able to shed clothing once the mission commences. Your momma might wear army boots, but you will want to don your standard-issue running shoes for maximum comfort and mobility. You'll need those twinkle toes when Target gets down to the last Justin Bieber DVD 2-pack.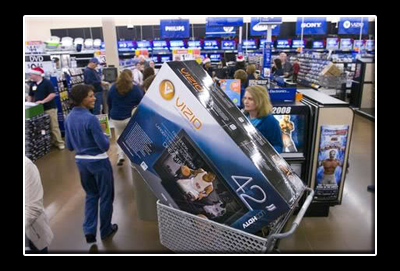 Even with all this prep, you've got to look alive; there are threats everywhere. Black Friday scams – ranging from so-so sales to straight-out identity theft – will be taking potshots at stragglers. Internet shoppers about to enter their payment info should watch for an unbroken key or padlock at the bottom of their browsers, and the URL address should change from "http" to "shttp" or "https" to show their data is being encrypted. In-store deal-hunters should keep a look out for thieves and pickpockets, who thrive in crowded situations. Crowds themselves can quickly become dangerous mobs, so maintain situational awareness when you're in a large group.
Lastly, make sure you bring the big guns whenever possible: the actual print ads for the deals you want. This can mean major backup when that too-good-to-be-true-deal puts your word against the cashier's computer. Honest mistake or not, you don't want to be caught in a firefight without any ammunition. With the flier in hand, you can make that pimply-faced recruit drop down and give you fifty… percent off. Another perk: many places have price-match guarantees so you can save yourself a trip by getting another store's deal matched.
So roll out, buttercup! You are now ready to pull off a precision Black Friday save-and-split... you might even be home for Christmas.