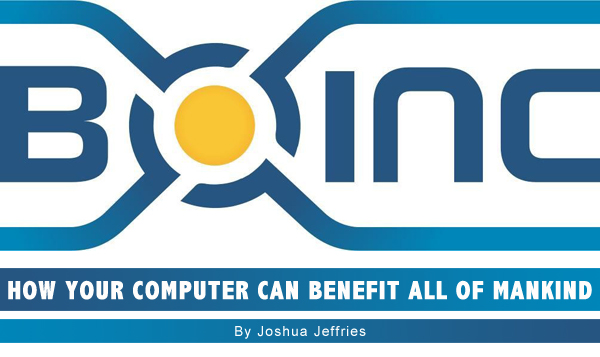 Ever wanted to volunteer but didn't have the time, or wanted to be part of something bigger than yourself but don't know what that is? Why not let your computer do it for you. Use your computer's idle time to cure diseases, study global warming, discover pulsars, and do many other types of scientific research.
Welcome to the world Berkeley Open Infrastructure for Network Computing or BOINC aka volunteer computing. There are problems in the world that even super computers can't figure out, or researchers that can't afford super computers can't figure out. Just because these problems are too big for any one computer doesn't mean that they can't be figured out. Historically, significant increases in available computing power have always enabled new insights and discoveries.
This network of millions of volunteer computers creates a resource larger than any existing supercomputer. Computations that would take tens of thousands of years to compute on an ordinary computer are processed in just a few months.

New medicines can be developed, the human genome can be explored, the physical origins of the universe can be modeled and probed, the search for signs of life on other planets can be extended.

And if Skynet from the Terminator is the first thing that comes to your mind, be assured that this is not Skynet. Dr. David Anderson at the University of California Berkley heads up the BOINC project and set us straight on how safe these programs are.

"There are two levels of fail-safe's," Anderson told Dish in a phone interview recently, "one is that these applications are run as a user with no privileges, and all of these programs like Windows and Linux have different accounts. If you set up an account with no privileges it can't access disk files that belong to other accounts; that's the first level of protection. The second is that the most obvious concern is that hackers can't break into the project servers; you see, the applications are downloaded from the servers belonging to these different projects. What happens is if hackers do break into those servers and replace legitimate applications with malware, we use a mechanism called code signing, where it uses a code signing key that each project has that they keep on an offline computer. Only applications that are signed with that key are accepted by the client. So even if hackers could break into the project servers they still couldn't use that to distribute viruses."

This project has helped numerous scientists and solved many problems that would have taken years to figure out. Some 54 publications have been made possible by the work of volunteer computing projects and can be found at: http://boinc.berkeley.edu/wiki/Publications_by_BOINC_projects.

As of today there are some 285,000 members contributing 513,278 computers to this project. The members span the globe and some have taken to joining forces. When you sign up to be a BOINC member you are given the chance to join a team. These teams range anywhere from Team USA to Team Navy, and even specialized teams such as amateur astronomers. If you can't find a team you like, start your own, make it Team Smith Family!

No matter what your interest, there is something you will find interesting that you can help figure out. If you want to research which project is right for you, download the BOINC software, and find more information on BOINC, go to http://boinc.berkeley.edu/