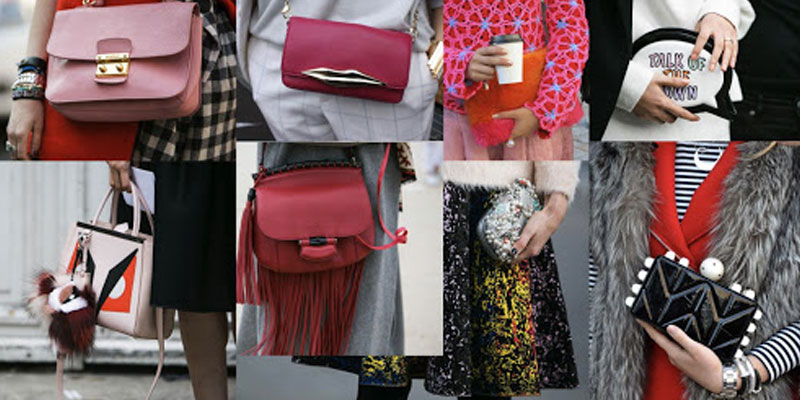 Admit it, among various accessories, handbags are an essential accessory for every woman to make their look perfect. However, even though you have a collection of handbags, you every time need a new one because the handbags must have to be trendy and stylish which matches the current trend. The fashion shows launch new styles and designs of handbags every season but those are not suitable and practical for everyday life. Therefore, it becomes very essential to make a selection of handbags or purses, which suits your style and outfit.

The important factor anyone needs to consider is the ideal color of any designer bag. If you want to purchase a wallet, go for the colorful wallet which effectively goes with multiple dresses. Before getting a handbag for matching your new dress, try to match the style of your dress with the pick of your handbag for presenting the perfect look.

When it comes to colors, the majority of women choose a brightly colored bag as it would soon be matched sensibly with any dress in your closet. This sensibility also helps in preventing the headache while choosing the handbag for a specific dress.

Along with style and color, finding a handbag under budget is also a very important factor but sometimes the design of the handbags you like crosses your budget. However, there are various ways that you can try to make the desired designer handbag yours under the set budget. To make your purchase worth admiring, here are certain tips to get the women bags and wallets under budget

Look for The Latest Arrivals

Before adding a new handbag to your collection, do a little homework about the latest fashion and style trending in the season presently. Instead of relying on the shopkeeper's recommendations. Watch out the fashion magazines, or check out the various brands' online pages for getting an idea of trendy colors and styles. Take a little idea about the trend and make a move for your shopping.

Consider Pre-Owned Options

Before investing your valuable money into the latest handbags or wallets, have a keen look at your closet and handbag or wallet collection. Sometimes the one you want as a new trend already exists in your closet. Fashion is the thing which repeats after a decade and there is always a possibility that you have a kind of on-going fashion handbag or accessories already in your collection for a long time. The only difference is that the same style from a decade back is in a different color.

For instance, now the trend is full of neon colors, however, you have the same design bag in a basic color. So there is no need to repeat the same style just for the sake of color, instead of buying that bag go for some other style bag which you didn't have.

Buy Quality Over Quantity
It is recommended to make a purchase of a branded and quality bag, instead of making a collection of cheap and in-expensive bags- which normally make a common unattractive look. A cheap bag will fall apart after a few years. It's better to buy 1 quality item than buying 5 items that do not give any look as well as torn out and become dull.

Buying high-quality designer clothes or handbags will save your money in the long run. Typically, designer clothes and accessories will last longer than cheaply made clothes and accessories.

Wait for Your 'Must-Have' Pieces To Go On Sale.

While window shipping or just going through any fashion magazine or seeing any celebrity on TV wearing some dress or carrying any fashion accessories, sometimes you get stuck with the specific products and wish to have it at any cost in your collection. Yes, this happens with every woman.
However, adding such a classy and freshly running accessory into your collection sometimes completely drills your pocket. Somehow it becomes a 'must-have' accessory for you, which is again a hard thing to keep away from adding to your collection. In certain cases, you must wait for the accessory to go on sale or available at a discounted price. This will help you out for buying the accessory without getting all money invested in a single thing whereas adding and enjoying the desired accessory.

Stay Away from Fast Trends

Trends come and go just like the season. Alongside this, there is the fact that a trend repeats after a decade. Among those various trends, few of the fashion didn't stay long nor even liked by the common public. So after every trend wait for the specific accessory or dress to the market and wait for the public liking that particular fashion product. Sometimes the trend gets flop and doesn't last for even a season because of its discomfort and quality.

Once you get the reviews of that accessory, its quality, its comfort then buy it without any hesitation. The wait helps you in saving your amount and maintaining your collection's high standard safe.
End of Season Sales

Among one of the most awaited and profitable sales is the end of the season sale. It comes with various discounts and savings like- One on one free, 50% off, Buy one get 2 free, and so on. End of season sale is a most liked and profitable sale that you must take advantage of. Even the luxurious brands like Coach, Gucci, Dior, Balenciaga, Chanel, Louis Vuitton, and many more go on sale, making the bigger opportunity to stock up and add the most liked and desired handbag or wallet into your collection.

Rent Designer Clothing And Accessories

No doubt every designer and luxury brand is quite expensive and a little troubling to your pockets. However, the want for those luxurious accessories and dresses is constant for everyone. Sometimes the most awaited occasion arrives and you have no money left to buy those classy brands, whereas you had dreamed of wearing those brands and flaunt the entire celebration.

In this situation, you can opt for renting those luxurious accessories and clothing, which is even the best option as you most of the time avoid repeating the dress you once wore on any occasion. This saves your money and makes you look different from classy items on you without keeping them, which you would barely wear in other social gatherings.

As you would notice, many of your expensive and branded dresses and accessories are engaging the space in your closet, which you will never or rarely wear.

Best Stores To Buy Handbags and Wallets
As a woman, we understand that spending and saving money both are important factors for you. So we have listed out a few of the luxurious brands which offer a heavy discount.

VLIEGER & VANDAM

The brand uses Italian and Spanish tanneries' the most luxurious quality of leather. All its handbags and wallets are specifically made in Europe's leather workshops. Over the past 10 years, the VLIEGER & VANDAM collections bestsellers were the Handcuffs clutch and hand-painted Splash accessories. Vlieger and Vandam coupon codes are available for a wide selection of hand bags.

Notabag

Notabag (https://www.notabag.com/collections/shop) creates high-quality products to simplify daily life for increasing the positive impact on the environment. The brand combines various factors such as eco-conscious, aesthetic, and practical design to make every product long-lasting, and high-quality material. Notabag also collaborates with small factories with good working conditions.

Being a young brand, Notabag is driven by the idea that it should be practically useful products to improve everyone's lives. It believes in the beauty of the simplicity and power of intuitive design. Alongside this, its handbags designs are durable and affordable. If you wish to purchase its product, several Notabag discount codes are available.

Mark Cross
Since 1845, Mark Cross (https://www.markcross.com/pages/our-story) is in business and stabilized its firm with a simple passion for creating the finest leather accessories for the horse and buggy rider. Later, the brand had expanded its range of products into the fashion world and quickly became an essential American luxury lifestyle brand.
It offers a huge variety of fashion products for women and men both in the category of fashion, regulars, basics, travels, vintage, and many more. For heavy savings use the Mark Cross discount codes while purchasing.

Vintage

Unique Vintage (https://www.unique-vintage.com/) was founded in 2000 by a vintage fashion lover, Katie Echeverry. While pursuing her hobby of selling and searching for the vintage dresses and accessories, she swiftly recognized the worth and demand for the vintage items. She learned that the high quality vintage items are hard to find and she took the advantage and added vintage inspired dresses to her site, she was successful immediately.

Eventually, Unique Vintage label has also built collaborations with Pantone, Barbie, Coca-Cola, Universal Monster and many more. UV offers a huge collection of vintage dresses, clothing, swimwears, flappers, plus size dresses, wedding dresses, shoes, and accessories. The brand also offers vintage discount codes on a wide selection of handbags and accessories.

Conclusion :

To complete a look for any special occasion or just a simple outing, a handbag is a must and attractive accessory one could have and carry. No matter if it is vintage or some luxurious brand or any local brand's item, if it completes the look, you have recovered your investment. Additionally, if you know the tricks and tips of purchase and invest in any fashion accessory then you can have a much smarter collection without unnecessary and uncommon stuff. Alongside this, an additional discount saves your money for some other stuff.